Youth and Sports Minister on Nevis Hon. Hazel Brandy-Williams declares Youth Month 2016 opened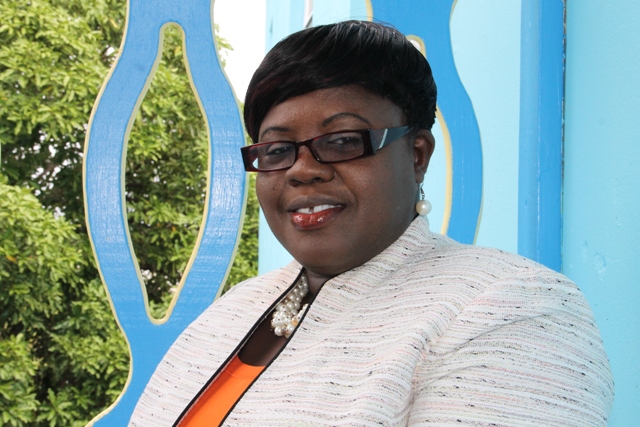 NIA CHARLESTOWN NEVIS (APRIL 01, 2016) — The following is an address by Hon. Hazel Brandy-Williams, Minister in the Ministry of Social Development, Community Development, Youth and Sports dated April 01, 2016 in observance of Youth Month 2016.
The role of a great leader is not to give greatness to human beings but to help them extract the greatness they already have inside them. – John Buchan.
Under the theme "Youth Lead: Not tomorrow, TODAY", we are once again observing Youth Month in Nevis during the Month of April. We often loosely use the word leadership in relation to our young people. In fact, the tradition is for us to refer to our young people as the leaders of tomorrow.
However, it is my hope that our young people, as well as all citizens, come to the realization that the youths are not our future, they are our now. The skills which we are able to inculcate and nurture today, will ensure that we have a Nevis which will be progressive and an example for other islands to emulate.
In order for us to truly do this, it is very important that we examine what our ultimate goals are in relation to leadership as an Administration and as an island on a whole. To hone in on our perspective of leadership, three fundamental questions come to mind:
What does it mean to lead?
The Webster Contemporary Dictionary defines the word "lead" as: to guide on a way, especially by going in advance, to direct on a course or in a direction or to serve as a channel for.
When we think of leading, we often focus solely on the political and professional realm. However, we need to ensure that our leaders in every sphere are strong. We need sound leadership in our homes, schools, community groups, churches, and even on the streets.
When and how should leadership be developed?
In essence, we start to develop fundamental leadership skills during the early childhood development stages. Parents and child care providers give children the opportunity to make choices, to demonstrate to their peers and sometimes to even assist their peers. This continues throughout their lives. The development of leaders, therefore, starts at home and the homes are supported by the church, school, community, the government and other institutions.
What we must be cognizant of at this point, is that the potential to lead can create persons who lead negatively and positively, those who can lead others to do what is wrong, versus those who can lead others to do what is right.
Our aim, however, is to ensure that our leaders are encouraged and inspired to choose the positive road, where integrity is the order of the day. This will ensure that the moral fabric of our island, the very core of who we are, remains intact. Which brings me now to question number three:
What is our role as older adults to ensure that the tenants of leadership are harnessed in our young people and passed on to future generations?
As older adults, who have been in positions of leadership throughout the various stages of our lives, it is important for us to recognize that we had to be given opportunities to lead in order for us to become good leaders. We had to make mistakes and correct them, we had to make difficult decisions, we were allowed to grow in our leadership.
ur role therefore, is to allow the young people to go through the process, which is similar to that which we ourselves experienced. This means that while it is necessary for us to hold their hands, there are times when we will have to let go and allow them to wobble a bit, steady themselves and move on.
This means that we will have to remember that generations are dynamic and this means that with advancement in technology and other areas, their perspectives and approaches will defer from those which we possess.
This means that we have to demonstrate superior leadership skills in our quest to mould leaders whom we will be confident would be able to lead our island and our nation.
The Ministry of Social Development through the Department of Youth and Sports, Youth Division, plans to ensure that we do our part to provide several platforms for leadership. This year, we have and will launch several programmes with a leadership thrust. These programmes include:
•
Be a L.E.A.D.E.R., a programme which focuses on six traits of leadership and how they contribute to helping our youth to become stronger leaders.
•
I CARE, I VOLUNTEER, a programme with the aim of using volunteerism as an opportunity to develop leadership skills while taking ownership of our community.
•
Empowering Young Entrepreneurs (EYE), an entrepreneurship programme for young people between the ages of 18 and 35 which encourages youth to create and start businesses in teams of three.
•
The creation of an island student council.
•
Providing support and guiding the process for our youth council on the island and ensuring that the body is constitutionally aligned.
These are just a few of the programmes which are being put in place. The recently held FACE of Youth Month Competition, attests to the fact that the Department understands and subscribes to what true leadership entails.
This competition was one which was par excellence and was created and run by persons who were all between the ages of 5 and 35. It was by far one of the most dynamic events which Nevis has seen and brought us to the realization that if given a chance; our youth will lead, not tomorrow but today.
With all of these in mind, we have several activities in place through the Department of Youth and Sports and other supporting entities including the Nevis Youth Council's Constitutional Reform Steering Committee, who although are in the process of leading the reformation of the council, have demonstrated our youth lead theme and have also arranged some activities to help to highlight youths.
We want to assure you that youth month does not solely belong to the Department of Youth and Sports, it belongs to our youth. As such, we welcome all youth groups, organizations and even individuals to come on board to make sure that this month is memorable and has a positive impact on our youth.
Join us for the many activities which will be offered during this month:
•
April 1: Launch of Youth Month and Youth Council Steering Committee Information Dissemination Exercise
•
April 3: Church Service at the Charlestown Wesleyan Holiness Church
•
April 7: Youth Panel Discussion hosted by the Youth Council Steering Committee
•
April 8: Launch of the Stand Out Campaign by the Wesleyan Holiness District Youths
•
April 11: Launch of Essential Skills Training Workshop
•
April 18-27: Costume Design Workshop (phase 2)
•
April 21: Road Map to Success Workshop
•
April 22: Launch of the EYE Program
•
April 26: Live Youth Talk Show
•
April 28: Be Your Career Choice Day
•
May 1: Youth Month Cool Down, an event like you have never experienced.
We also invite you to look out for the launch of the programme "What's happening at the Department of Youth and Sports" featuring the winners of the FACE competition and our annual Youth in the News programme.
Youths, remember that great leaders do not set out to be a leader; they set out to make a difference. It's not about the role but always about the goal. We encourage all – the young and young at heart – to join in the celebrations for Youth Month 2016 – as our youth lead, not tomorrow but today.
I now declare Youth Month 2016 officially launched.