2012 challenging but crime rate decreased, say Nevis Police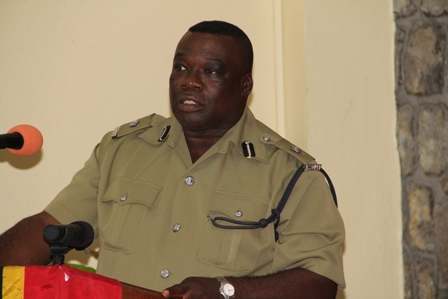 NIA CHARLESTOWN NEVIS (January 07, 2013) —
Divisional Officer of the Royal St. Christopher and Nevis Police Force, Nevis Division Superintendent Hilroy Brandy, described 2012 as a challenging one for the Division but through teamwork the Officers there had succeeded in reducing the crime rate that year by 4.4 percent over that of 2011.
Mr. Brandy made the disclosure at the Division's annual New Year Blessing ceremony on January 04, 2012, at the Divisional Headquarters in Charlestown and thanked all who made the feat possible.
"I wish to thank the Commissioner of Police Mr. Walwyn for his leadership and the assistance given to the Division. Thanks must also go to ACP Liburd for his supportive role. To the community I say a heartfelt thank you to all for your trust and confidence that you have placed in us" he said.
Notwithstanding, Mr. Brandy urged the officers stationed on Nevis to push on even if they were encountering difficulties in their professional or private lives.
"Fellow officers, in spite of the difficulties that may affect your personal or your professional lives, do not give up. Drive yourself to keep going. Motivate yourselves and renew your commitment daily in an effort to rise above your difficulties and continue to produce.
"Let us grind ourselves and promise that we will not betray our commitment to ourselves, the job and to the Federation for more than ever, much depends on us," he said.