SIDF Business Boot Camp participants on Nevis told to consider themselves privileged
NIA CHARLESTOWN NEVIS (January 08, 2013) —
Corporate Affairs Manager of the Sugar Industry Diversification Foundation (SIDF) Mrs. Delcia Bradley-King, told the 14 participants selected for the Fund's Small Business Entrepreneur and Enterprise Development (SEED) Business Boot Camp on Nevis, that they should consider themselves privileged to be a part of the programme.
Mrs. Bradley-King made the comment when she chaired the opening ceremony of the SEED's three week Boot Camp on January 07, 2013, at the Nevis Corporative Credit Union's conference room on Chapel Street.
"You are the 14 selected from the group of applicants; you are the 14 participants and you should consider yourselves quite privileged to have been selected.
You have presented yourself in a manner that indicated to us that you have a business that will be developed or potentially be developed in a creative, innovative, a profitable enterprise and so we are extremely pleased to work with you…We expect that this, for hopefully all of you, will be a life changing experience," she said.
According to SIDF Official, the institution was pleased with the response to applications for the programme in Nevis during its official launch in Charlestown on December 21, 2012. She noted that the response was a clear demonstration of persons' interest in the SEED.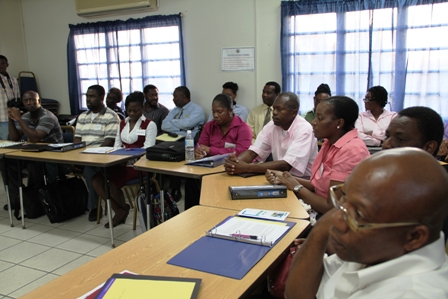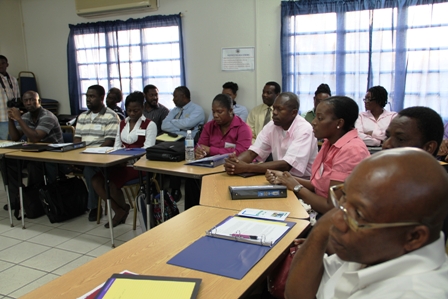 "We are extremely pleased with the response to the applications from applicants in Nevis. We received just under 50 applications and that of course is a very clear indication that there is very great interest in starting businesses; there is great interest in persons wanting to be self employed.
"We are of course very happy to facilitate that desire, to facilitate that move to become an entrepreneur," she said.
The Nevis leg of the SEED was launched simultaneously with St. Kitts but the Boot Camp which commenced on Monday followed on the heels of a camp on St. Kitts.
"We are extremely delighted to be implementing this Boot Camp in Nevis; implementing SEED in Nevis…especially having recently concluded the boot camp in St. Kitts with very pleasing results.
"So we have completed the first phase and are now set to move on to the second phase in St. Kitts. So we are extremely pleased that so soon after the start we can implement this in Nevis," Mrs. Bradley-King said.
Participants attending the Camp organised, sponsored and managed by the SIDF in collaboration with SIDF facilitators, will receive training in the prerequisites for the establishment and operation of a successful business. They will be tutored by a team of experts experienced in marketing, finance, accounting and other relevant areas of business.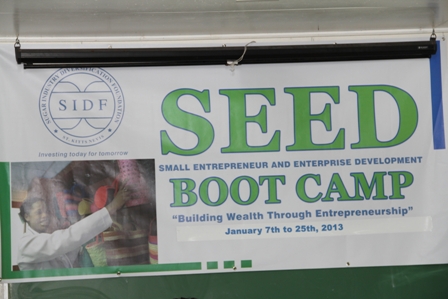 The SEED programme falls under the mandate of the Sugar Industry Diversification Foundation to initiate a programme which would empower individuals and stimulate the economy and the SEED programme was formulated to achieve those objectives.
It was developed to spur an entrepreneurial spirit in St. Kitts and Nevis. The programme will also seek to nurture innovative ideas into viable businesses; assist the transformation of the local economy through the provision of needed business and management training, financial capital and support services to small enterprises; the creation of employment opportunities and increase disposable incomes of households.
The SIDF has committed EC$5,000,000 to the SEED Fund to provide loan financing for business ventures ranging from $5,000 to $100,000 at a zero percent interest rate.