2023 New Year's Day Address by Premier Hon. Mark Brantley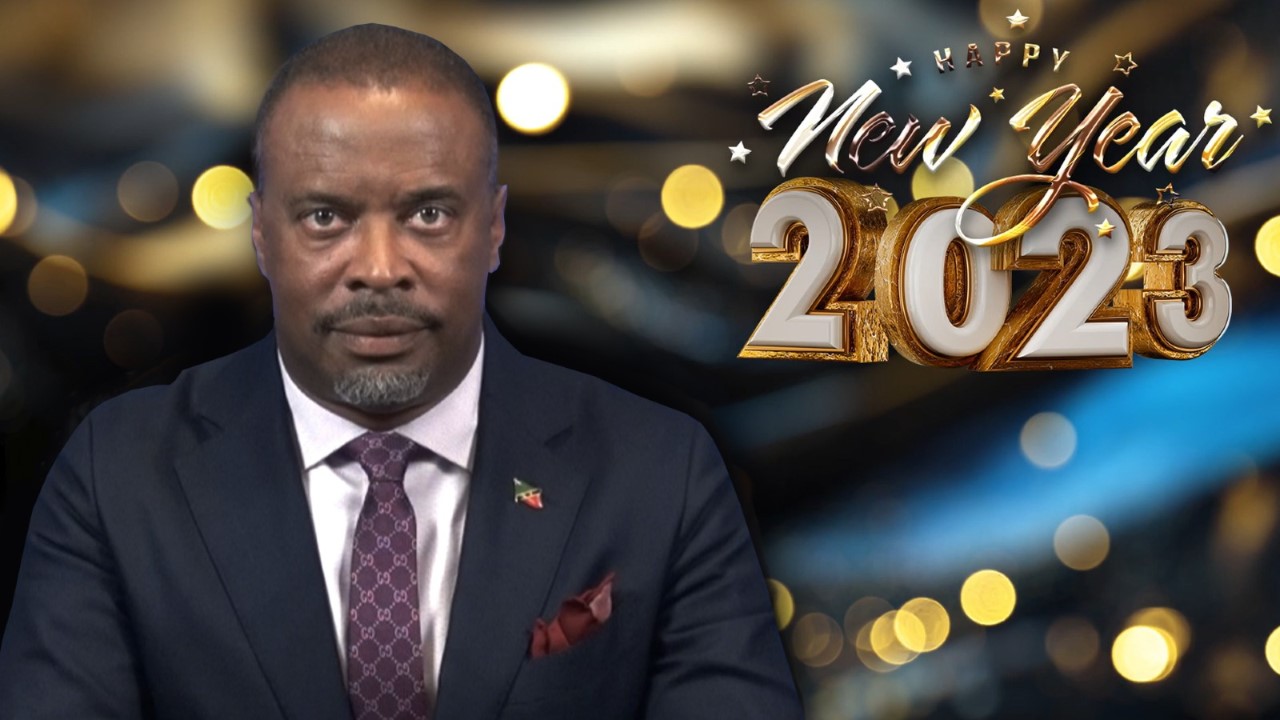 NIA CHARLESTOWN NEVIS (December 31, 2022)- The following is the 2023 New Year's Day Address by Premier of Nevis, Hon. Mark A. G. Brantley:
Fellow Nevisians and residents, I greet you on the first day of 2023, wishing you a Happy New Year.  I pray that the warm smile of God's favour and His blessings may shine upon you and your family in the year ahead.  As we close the curtain on 2022, we rejoice that 2023 affords us the opportunity to improve and to do things better.  It offers us a reset – a course correction – when we reflect on what worked and what did not, and to re-imagine what we can improve upon in the year ahead.  It is also a time of gratitude when we give thanks to God for good health, strength, the love of family and the companionship of friends.
The year 2022, like others before it, was a year of success and failures, triumphs and disappointments.  However, much of this success could not have been realized without the commitment and sacrifice of our hard working citizens and residents.  In the spirit of gratitude, I must express profound appreciation to the employees and volunteers who function under the umbrella of the Nevis Island Administration and who gave commendable service in the performance of their duties.  I say 'thank you' to the business community for your contribution to our economic growth through the provision of jobs, by meeting fiscal obligations and by giving back to society as responsible corporate citizens. To the farmers, fisher folk, construction workers, teachers and hospitality workers, I say 'thank you' for your contribution in keeping our island on the path of sustainable growth.  Your efforts are truly valued and appreciated.  To those who volunteered their time and talents in the various communities to build the capacity of the youth, those who cared for our elderly and maintained and enhanced the various communities, I say 'thank you.'
For Nevis, the past year was eventful and unique.  It was the year in which we sadly witnessed the passing of our beloved and revered former Premier, former party leader, ambassador and statesman, His Excellency Vance W. Amory.  Let me, once again, express my condolences, and those of the Nevis Island Administration, to the family and friends of our dearly departed colleague.  It was also the year in which, for the first time, our island participated in both a federal and a local election in the same year.  The people of Nevis, once again, reposed their trust and confidence in my CCM led administration in both elections.  For this, we are eternally grateful and tender our heartfelt thanks to you, the people, for consecutively demonstrating your unswerving belief in us.  Today, I pledge that your trust and confidence will not be squandered or taken for granted.  I pledge that we will work diligently, honestly and creatively in honouring your steadfast support.
Culturama 48 (C48) was the first in-person Culturama post-Covid and it was, by all accounts, a tremendous success.  The participants, sponsors, organizers and revelers outdid themselves and should be commended and celebrated for, once again, demonstrating that Nevis Culturama is indeed the greatest summer lime.
The year 2022 was a momentous year filled with monumental events:
The Charlestown Primary School were repeat Inter-Primary champions and went on to make history by winning the inaugural St. Kitts and Nevis Primary School Relay Competition held at the Kim Collins Stadium.
In education, we had the completion of the TVET Centre at the Gingerland Secondary School; a giant step in our thrust towards technical and vocational qualification among our people.
In the area of health, we had the historic opening of a Mental Health Unit at Prospect. We also saw the installation of a CT Scan Machine at the Alexandra Hospital – the first of its kind in the Federation of St. Kitts and Nevis.  This is a huge step in diagnostic testing in the Federation. We extend an invitation to our brothers and sisters from St. Kitts to make use of this equipment.
History unfolded when, for the first time, a Nevisian female Deputy Speaker of the Federal House was sworn in.
As promised, we also saw the opening of the Nevis recycling facility donated by our age old friend and ally, the Republic of China (Taiwan).
Of great significance was the approval of US$17 million by the Caribbean Development Bank, which will be used for the drilling of the three production and two injection geothermal wells at Hamilton.  The approval of this money has brought us much closer to our geothermal ambitions.
We have continued our housing revolution with housing developments at Maddens, University Heights, Craddock Road, Hamilton, Prospect, and Rices. Many young people including single mothers were able to move into their own home in 2022.
The year ahead promises to be exciting and productive on many fronts.  Post-Covid, we will reboot our economy to increase our economic momentum amid this global economic climate. As we work to increase this momentum, emphasis will be placed on food production that will take us beyond food security to food sovereignty.  We will reinforce our social safety nets to assist our elderly, indigent and vulnerable. Our education and medical assistance programs will be expanded.  We will endeavor to provide more scholarships for our students to assist them in realizing their dreams.
The forecast for the upcoming tourism season is encouraging.  The Four Seasons Resort anticipates a good season for 2023.  The other hotels are also upbeat about their reservations for the year ahead.  I am happy to report that the Mount Nevis Hotel will be reopened early in the upcoming year. Cruise ship arrivals look impressive.   To further enhance our tourism construct, effective February 15, 2023 Cape Air will resume flights from St. Thomas to Nevis – once daily and twice on Sundays.  Clearly, this will increase access to Nevis as a tourism destination, adding impetus to our tourism industry.  Additionally, your government is presently in negotiations with WINAIR to re-establish the St. Maarten – Nevis connection.  Updates on the outcome will be given in the not too distant future.
In 2023, we will continue to give coordinated and focused attention to our infrastructural development.  The existing projects of the Bath Road, the Butlers Road and the new hospital wing will all be completed.  We will also see the conclusion of the Road Renovation project from Cliff Dwellers to Camps.  We are committed to the Church Ground / Hamilton  and Westbury/ Fountain / Mount Lily bypass roads. There will be a continuation of the CCTV Project as we continue our fight against crime.
In 2023 we will witness the commencement of the TVET Centre at the Charlestown Secondary School. In June of this year, the drilling of the three production and two injection geothermal wells will begin.  This will signal the realization of our geothermal ambitions.  The manifestation of such ambition will be our energy security and independence.
We expect to see the construction of the much awaited Marina at Tamarind Cove and the necessary work on the airport, seaport and Southern Coast road to which we have committed.
The year ahead will be filled with challenges and difficulties, as those prior.  However, I am confident that, as a people, we have the requisite capacity and fortitude to persevere regardless of the circumstances.  Our history has been one of struggle, resilience and success.  At every pivotal moment, at every historic juncture of difficulty, we have always dug deep within ourselves and embraced the spirit of duty, discipline and resilience.  I have no doubt that, in the year ahead, when beset by difficulties and confronted with challenges, we will not only endure but we will prevail.
Over the course of the year, I urge all who call Nevis their home to endeavor to carry out a rebranding of Nevis. Let us reshape, remodel and revalue our lovely island.  Let us augment our national self-image and extol the true meaning of nationhood.  As we journey through the year, let us seek to identify and profile ourselves as a principled people with a high sense of civility and justice. Let us promote and pursue the restoration of a culture of hard work, discipline and productivity.  Let us rediscover our sense of volunteerism, neighbourliness and community spirit.  Let us rebrand and create the kind of Nevis that we would be proud to endow to our children and our children's children.
In conclusion, may the Year 2023 be one where we spare no strength, courage, time or talents in building a better and greater country. May we build a united and inclusive nation where we care for and help each other.  In this season of hope, resolutions and aspirations, may we be purveyors of empathy, compassion and love.  As we welcome the New Year, I encourage a lifting of the eyes of the nation towards the heavens as we pray for good health, good fortune, happiness and peace in abundance.
May God bless and keep you and may His face shine perpetually upon you and our beloved nation.