Agriculture Official registers satisfaction with land usage by Nevis Wind Farm operators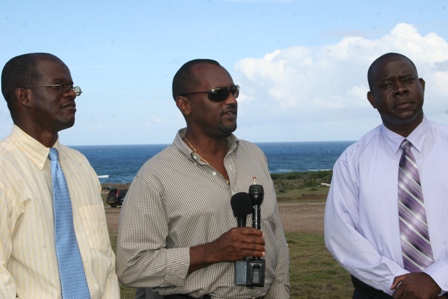 (L-R) Area Representative for the St. James Constituency and Attorney General Hon. Patrice Nisbett, Permanent secretary in the Ministry of Agriculture on Nevis Dr. Kelvin Daly and Minister of Agriculture Hon. Robelto Hector
CHARLESTOWN NEVIS (June 01, 2010) — Permanent Secretary in the Ministry of Agriculture on Nevis Dr. Kelvin Daly registered satisfaction with the land usage by operators of Wind Farm project at Maddens.
During a recent visit to the site, the Department of Agriculture's prime breeding area for Senapole cattle, Dr. Daly told the Department of Information that when the Ministry and Department of Agriculture was initially approached a year ago, there was some trepidation from members of the public that the planned operation would interfere with the cattle grazing and breeding area.
"Through negotiations and goodwill we were able to secure the dual function for this farm both for energy generation and for livestock grazing.
"I am pleased with the operation. We have had very little complaints about interaction between the animals and the construction crew on the sites. Whatever complaints were issued they were quickly rectified and so we are quite happy that we were able to play a small part in this development," he said.
The Permanent Secretary also used the opportunity to show that adjacent lands used by private livestock farmers had not been affected by the Wind Farm site, contrary to public sentiment.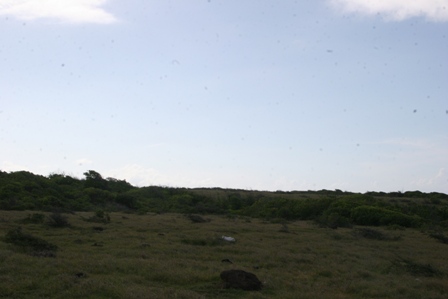 Adjacent lands used by a private livestock farmer free of wind turbines and evidently unaffected by the Maddens Wind Farm project
"I know there was some consternation earlier up when some persons were complaining in the mass media that this project is displacing a particular farmer. Let me make that clear right now the particular farmer's lot is on that side over there [left of the Wind Farm] and you can clearly see there are no turbines on that site.
"We were making that claim earlier on that there was no interference and persons who without any information, were making false claims and here we are today with direct proof that these turbines here are on lands, designated for the [wind] farm and for livestock operation. It has no impact on whatever private use of the land by farmers and that myth is now dispelled," he said.
Dr. Daly had accompanied members of Cabinet including Minister of Agriculture Hon. Robelto Hector and Area Representative for the St. James Constituency and Attorney General Hon. Patrice Nisbett.