Another Nevisian Senior turns 90; Minister Daniel joins celebration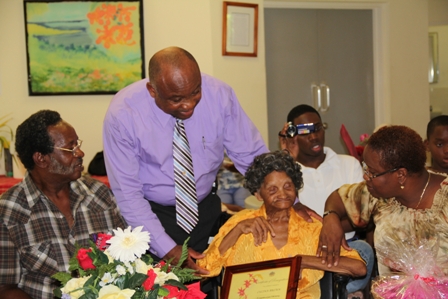 NIA-CHARLESTOWN NEVIS (August 17, 2011) —
Mrs. Lucina Brown Hendrickson from Hull Ground in Gingerland, came one step closer to becoming a centenarian when she celebrated her 90th birthday on Monday at the Flamboyant Nursing Home. On hand to celebrate the occasion were Minister of Social Development on Nevis Hon. Hensley Daniel and staff of the Senior Citizens Division in the Ministry of Social Development.
During a brief but significant ceremony, in the presence of her family, Mr. Daniel presented her with a gift basket and a certificate of recognition through her daughter Ms. Carol Hendrickson
"I would like on behalf of the Ministry of Social Development in particular the Division which is responsible for the seniors to present to you Carol this 90th birthday gift for your mother.
"We also have a certificate for her. It is a certificate of recognition. The certificate is awarded to Lucina Brown in recognition of your 90th birthday from the Ministry of Social Development," he said.
Meantime, Director of the Senior Citizens Division Mrs. Garcia Hendrickson who chaired the event in her remarks, explained that they wanted to share the special moment with Mrs. Brown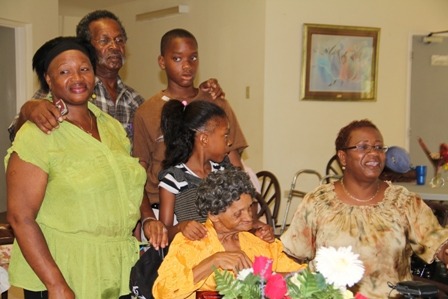 "We are here to celebrate with Mrs. Lucina Brown better known as Lucina Hendrickson Brown and we want to share with her in this very momentous occasion. She has reached a very significant milestone 90.
"The word of God speaks to three score and 10, she has reached four score and 10 so she is blessed and doubly blessed and we are here with her family and the minister has taken time out of his very busy schedule to come and share as usual with her on this occasion," she said.
In response Mrs. Hendrickson's daughter Carol Hendrickson who resided overseas but was on hand to share the occasion, expressed gratitude to all who cared for her mother.
"On behalf of the Hendrickson-Brown family we appreciate the gift and we thank all of you who participate in the care of my mother. I am so far away and sometimes it is very difficult to get news about her, so I have to run down here every chance I get just to see what she is doing. So I thank you and I appreciate all your help," she said.
During the ceremony Ms. Angela Challenger of the Senior Citizens Division read a Bible verse while a word of thanks was given by Assistant Nurse Manager at the Flamboyant Nursing Home Ima Stanley.
"I want to thank on behalf of the entire staff of the Flamboyant Home, the Minister and his Government for continuing to recognise our senior citizens. They [seniors] have toiled for us throughout the years and we are thankful that in some small way we can show them that we still love them and we appreciate them very much," Sister Stanley said.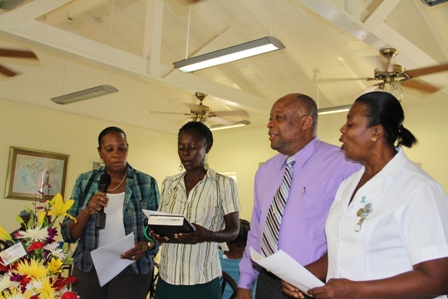 The Ministry of Social Development under the stewardship of Hon. Hensley Daniel expanded the programme of activities for senior citizens. He is of the view that the seniors on Nevis have been anchored in the island's social and economic development due to the solid foundation they had laid.
Since Mr. Daniel took charge of the wellbeing of seniors on Nevis in July 2006, a fully functional Senior Citizens Division was established within the Department of Social Services. Since then several programmes have been established among them recreational and social activities and a programme to celebrate the achievements of the senior citizens during birthdays and other significant milestones.
Also a team of Home Help Care Workers have been put in place to care for those who are unable to assist themselves has also been established.
Landmarks and public areas have been also named in recognition of seniors contributions including the Joycelyn Liburd Primary School in Gingerland, the Cicely Grell-Hull/Dora Sevens Netball Complex and the Arthur Evelyn Building in Charlestown, the Uhral Swanston Highway in Zion, Inez France Pre School in Jessups, the Elizabeth Pemberton Primary School in Cole Hill and the Levi E. Morton Building at Pinneys.