Another Successful Culturama Cocktail hosted by Premier Parry
Premier of Nevis the Honourable Joseph Parry with 2011 Culturama slogan winner Mr. Shadeo Browne.
NIA-CHARLESTOWN, NEVIS (August 3RD, 2011) — Despite claims that "there would be no Culturama this year," Nevis' Premier, the Honourable Joseph Parry, with the support of Deputy Premier and Minister of Culture, the Honourable Hensley Daniel, and Area Representative for the St. Paul's Parish, the Honourable E. Robelto Hector, hosted a successful cocktail for the 2011 Culturama participants.

The cocktail, held on July 19 at the Mount Nevis Hotel, was punctuated with speeches by Ministers Parry and Daniel, Culturama 2011 Chairman, Mr. Halstead "Sooty" Byron, and Manager of the Festivals' Secretariat Mr. Antonio "Abonaty" Liburd.
During his remarks, the Culture Minister Daniel recorded appreciation to the festival's organisers, contestants and sponsors while lauding the "cultural preservation" work of his government.
"As I listened to the various activities, I cannot [help] but feel that with our efforts in the government, we have been able to move Culturama to another level and with the music, the dance, the drama and all of the competitions, we are pretty pleased with the programmes for this year," Minister Daniel said.
Similarly, Premier Parry commented on the level of participation for Culturama 2011 but made special mention of the "young people" who he said "are ready to take over."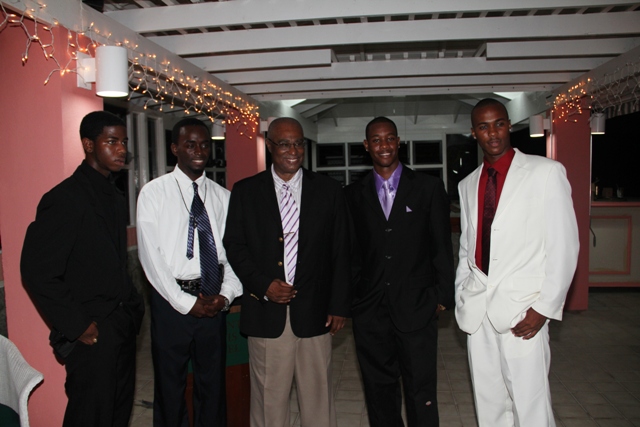 Premier of Nevis the Honourable Joseph Parry with 2011 Mr. Kool Contest participants.
"So many young men and women have come forward and it is a sign really of what is happening on the island of Nevis. I sense a change. I sense a renaissance on the island of Nevis where young people are emerging, not waiting, emerging and they are placing themselves in a position to demonstrate that they are here and they are here to stay," Minister Parry said.
As the government officials greeted the 2011 Talented Youth, Mr. Kool, Ms. Culture Swimwear and Ms. Culture Queen Pageants' contestants, invited guests engaged in meaningful conversations as they were entertained by Leroy Parris Jr.'s steel pan renditions.
Also present at the cocktail were this year's Culturama patron, Ms. Eulalie Francis, and the 2011 Culturama slogan winner, Mr. Shadeo Browne.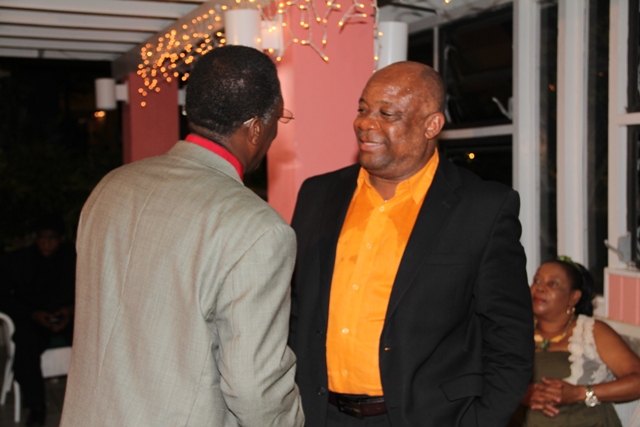 Minister of Culture the Honourable Hensley Daniel with Manager of the Festivals' Secretariat Mr. Antonio Liburd.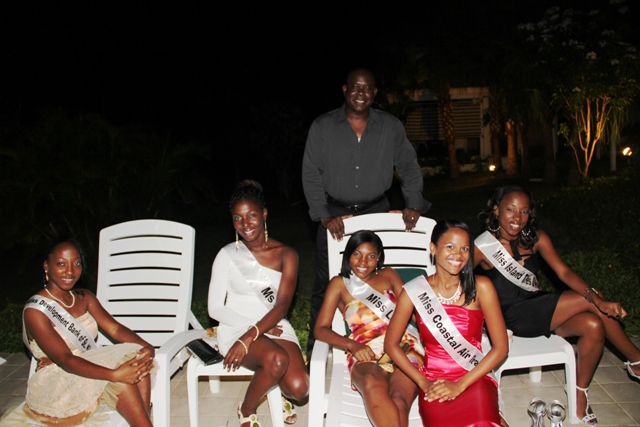 The Honourable E. Robelto Hector with 2011 Culturama contestants