Nevis to remember Christena Disaster with Memorial Service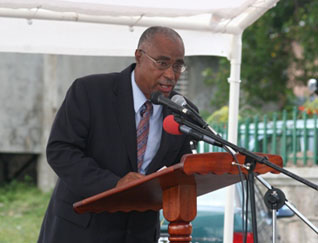 Premier of Nevis, Hon. Joseph Parry at last years Christena Memorial Service Deli Caines
Charlestown,Nevis –(Friday, July 29th, 2011)
Nevis wiill remember the 236 lives that were lost and the 99 survivor's with a Memorial Service to commemorate the 41st Anniversary of the MV Christena Disaster which took place on August 01, 1970.
This year's service will be held on Monday, August 1st at 4pm at the Bath Cemetery, Bath Plain.
At last year's commemoration, The Premier of Nevis, the Hon. Joseph Parry told those in attendance that the disaster had brought a significant new beginning to Nevis and we must never forget this important part of Nevis' history."
He noted that the message from the service was not one of only hope but the fact that people had to live and move on in life. The Premier also reflected on the past 40 years after the disaster. He told persons present that the 40th anniversary was a time for all to reflect. "A time to ask ourselves where we are going? What have we achieved? What is the direction that we wish to take, and what do we want to achieve?"
He also implored the general public to find a way not to forget the past, to document their history and to be open. "When we record our history, we also need to teach it. Let us put aside the division of politics, dishonesty, lying and destruction of character. If you do not know your history you will repeat it," he said.