Barbados-based British High Commission official visits Nevis Premier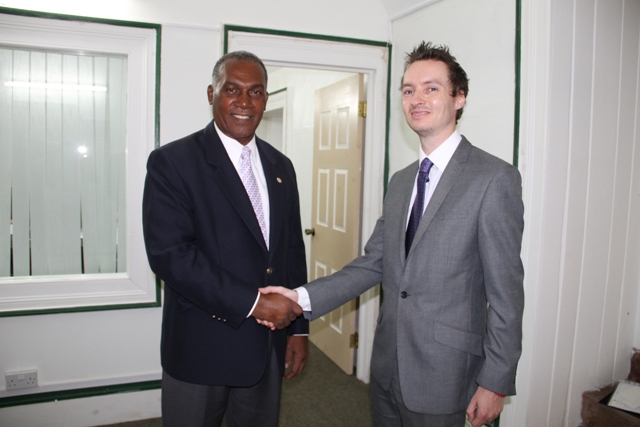 NIA CHARLESTOWN NEVIS (April 30, 2014) –Martin Robinson, Head of Political, Press and Public Affairs at the British High Commission in Barbados paid a courtesy call on Premier of Nevis at his Bath Plain Office on April 30, 2014 and according to him, their meeting was excellent.
"I had an excellent few days in Nevis. I arrived yesterday and I have just had an excellent meeting with the Premier and I met with the Deputy Premier Mark Brantley earlier today as well," he said.
In brief remarks, Robinson told the Department of Information moments after he emerged from the meeting about his visit.
"I am here from the British High Commission and three priorities of the Commission are always security, prosperity and consular.
"We have been having lots of good discussions on the prosperity side for possible opportunities for British businesses and I have also been talking with our Honorary Counsel Sarah Percival, about our British nationals and about British visitors to the islands," he explained.
Meantime, during their parting greetings, Premier Amory assured Robinson that the British High Commission could expect a response with regard to an invitation for British scholarships.
"We will respond to your invitation to get those persons who might be interested in following up on the British High Commission's Scholarships and we will get the responses to you but thank you for coming and thank you for sharing with me the information from the British High Commission," he said.
After the meeting with Mr. Amory, Robinson left Bath Hotel for a meeting with the Police for discussions regarding the security situation on the island.