Bust of Dr. Sir "Sim" Daniel unveiled in the heart of Charlestown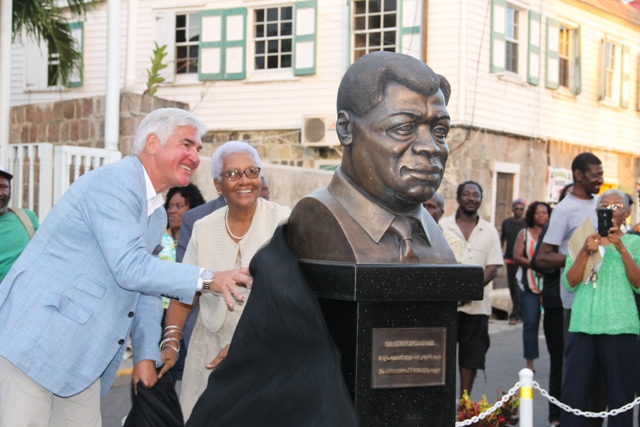 NIA CHARLESTOWN NEVIS (APRIL 21, 2017) — Nevisians and Kittitians now have a permanent reminder of the Right Excellent Dr. Sir Simeon "Sim" Daniel, the first Premier of Nevis and a National Hero, following the unveiling of a bust in his likeness in the heart of Charlestown on April 20, 2017.
The bronze bust, a donation from benefactor Mr. Michael Heinritzi and his family, with the blessing of the Nevis island Administration (NIA), was unveiled by him with the assistance of Lady Sheila Daniel, the wife of the late Simeon Daniel.
In response, family representative, Sir Daniel's wife Lady Daniel, said she is hopeful that the people of St. Kitts and Nevis, more so, the people of Nevis, show their appreciation by honouring her husband's motto "Country above Self."
She urged then to see the bust as a remembrance of a man who shared love with them and his significant contribution to the island of Nevis.
Lady Daniel used the opportunity to express her appreciation to the Heinritzi and family, who she said had the foresight to donate the bust and to the NIA who gave permission to have it erected in the middle of Charlestown.
She made special mention of Deputy Premier of Nevis, Hon. Mark Brantley who she said played an integral role in the erection of the bust of her husband.
Mr. Heinritzi, in brief remarks, expressed satisfaction with his donation. He said he was approached with the idea by Hon. Mark Brantley and he accepted.
The benefactor said Sir Daniel meant more to him than being the first premier of Nevis and a national hero but was also responsible for bringing high quality employment to the people of Nevis and for bringing Four Seasons Resort to Nevis which brought him and his family to the island 25 years ago.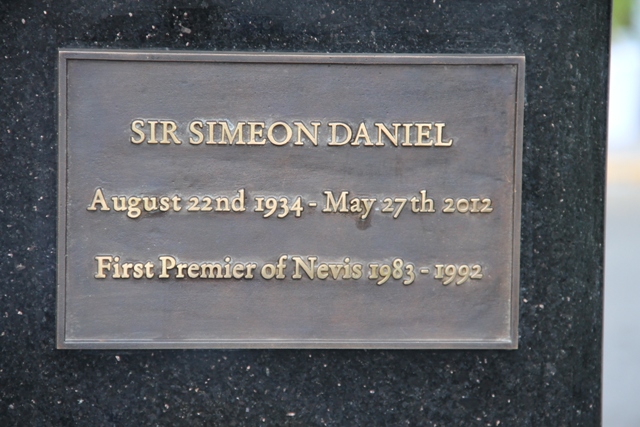 He said Sir Daniel laid the foundation for a modern Nevis, while his successors continue his legacy today.
He thanked the people of Nevis for their friendliness and the joy they bring his family. He said it was for that reason why they continued to visit and have owned a house on the island for the past 20 years.
Other remarks came from Premier of Nevis Hon. Vance Amory, Prime Minister, Prime Minister of St. Kitts and Nevis Dr the Hon. Timothy Harris, Deputy Premier of Nevis Hon. Mark Brantley and Leader of the Opposition in the Nevis Island Assembly Hon. Joseph Parry.
The national anthem was rendered by Ms. Nayala Daniel, a poem was recited by Mr. Shomani "Mighty Swokie" Mitchell, the invocation was done by the Very Reverend Rudolph Smithen and Devon Liburd chaired the ceremony.