Caribbean Cable Communications donates books to Creative Youth Academy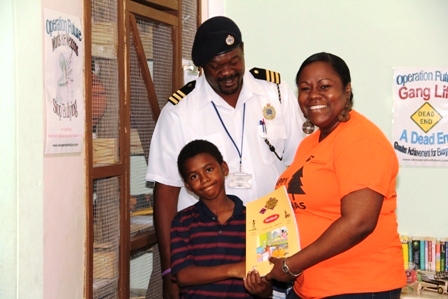 NIA Charlestown nevis (December 27, 2013) – Caribbean Cable Communications (CCC) on December 23, 2013, donated a number of books to the Creative Youth Academy at the old Cotton Ground Police Station as part of its Christmas promotion which granted charities on Nevis items off of their Christmas wish.
In an interview with the Department of Information ahead of the handing over ceremony, Manager of Caribbean Cable Communications, Mrs. Trecia Daniel explained the purpose of the donation to the Academy.
"We contacted Mr. Dan McMullen from the Creative Youth Academy and he indicated that they were in need of some supplies and sent us a listing… So we are here to present to the Creative Youth Academy some workbooks.
"I know they have a homework programme that they do at afternoons and they were in need of workbooks so that they can better assist the children and so, in an effort to aid them in that, we decided to donate the workbooks," she said.
Meantime, while delivering remarks at the brief handing over ceremony, Mrs. Daniel expressed CCC's commitment to make contributions to the community on Nevis.
"We believe at Caribbean Cable that the children are our future and we believe that if we invest in the children, we're going to have a better island, better customers in the long-run and better people. So that is why we are investing in the children and why we are investing in the future," she said.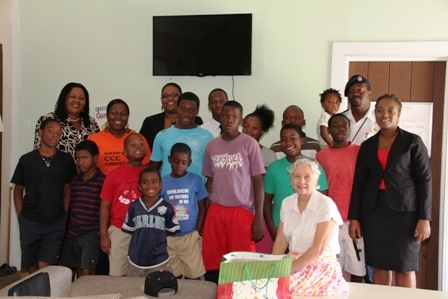 In response, Coordinator of Youth Development at the Department of Youth and Sports and representative for Creative Youth Academy, Ms. Zahnela Claxton, thanked Caribbean Cable Communications for the donation and spoke to the importance of the gifts.
"Thank you very much on behalf of Operation Future… We stress on the importance of education. Not only will we be using these workbooks to assist them in their homework endeavours but also for practical purposes when they come in on weekends and they want to practise, especially when we are closer to Test of Standards and promotion exams.
"We will have these workbooks available to use and so we are very grateful to Caribbean Cable Communication for spreading the Christmas cheer through the Creative Youth Academy and we just want to say a hearty thank you for that," she said.
Also present at the brief ceremony was Assistant Permanent Secretary in the Ministry of Social Development Ms. Michelle Liburd, volunteer at Creative Youth Academy Mr. Joseph Williams, Sales Associate at Caribbean Cable Communications Mr. J. Mario Phillip and Cooperate Accounts Executive at Caribbean Cable Communications Ms. Joyah Herbert.