CARICOM Foreign Ministers meet with USA Deputy Secretary of State H.E. John Sullivan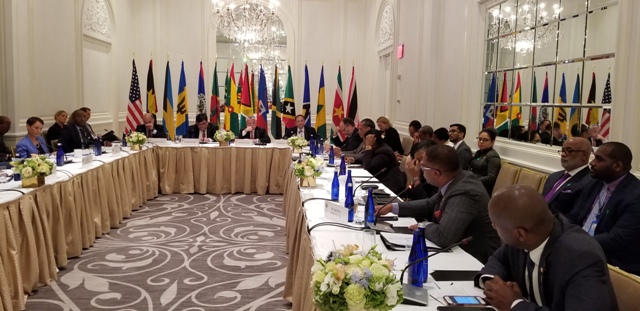 September 28, 2018 (Ministry of Foreign Affairs) – In an important meeting on Thursday 27th September 2018, Caribbean Community (CARICOM) Foreign Ministers met with the United States of America (USA) Deputy Secretary of State H.E. John Sullivan.
The extensive exchange geared around climate change and disaster risk reduction, financial and banking services, security, migration and education amongst other issues.
St. Kitts and Nevis Foreign Minister Hon. Mark Brantley intervened on behalf of the group to present on the health matters in the region.
In his brief remarks, Hon. Brantley highlighted the heavy economic burden of non-communicable diseases on our region, noting the alarming statistics on the high mortality rates attributable to non-communicable diseases (NCDs).
Minister Brantley also beckoned the call for a new paradigm of the criteria that small, economic and environmentally vulnerable states, which have graduated to middle and high income status are eligible for development assistance.
The meeting ended with a dialogue on the avenues in which CARICOM and the US Government can advance its technical cooperation frameworks.