Celian "Martin" Powell of Zion Village; Federation's oldest citizen celebrates 105th birthday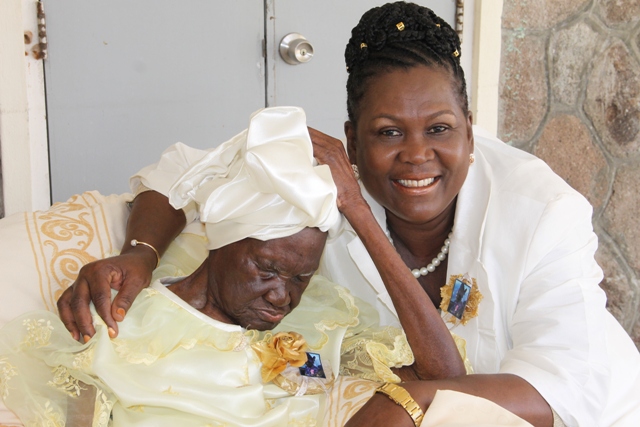 NIA CHARLESTOWN NEVIS (January 19, 2017) — "God bless ah you who come, come hear me talk," was the response of 105-year-old birthday girl Celian "Martin" Powell of Zion Village, at a ceremony held in her honour by her family on her birthday on January 19, 2017, at the Flamboyant Nursing Home where she now resides.
Powell, who is the oldest citizen of St. Kitts and Nevis, added that she didn't have anything else to say however, her granddaughter Erma Skelton, spoke on her behalf about her strong faith, family values and her ability to make one laugh.
"The first testimony is about my grandmother's lifelong faith-based convictions: Multiple Sunday schools and regular church attendance were non-negotiables for us as we grew up, especially if you decided to go out on a Saturday night.
"Then, she always made sure [we knelt down to say our prayers]. You had to start and end the day with praise and thanks for every day, be it a good or a bad one and hope for a better tomorrow," she said.
Celian's granddaughter also spoke of her strong family values.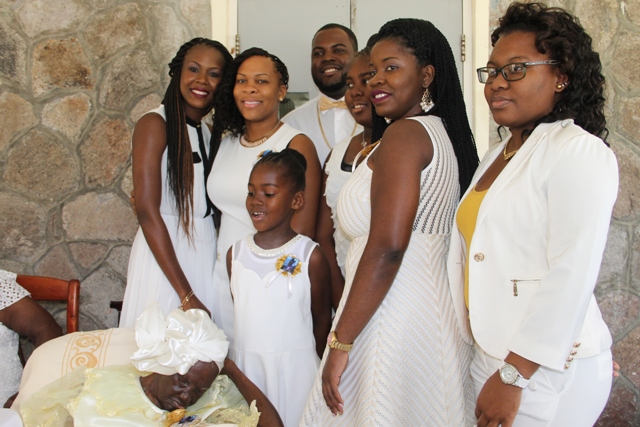 "While she only bore two children, she is called 'Mama' by hundreds who experienced her genuine love and caring nature. A diplomat in her own right, she knew the value of conflict resolution when her friends and family could not see eye-to-eye.
"When she was through being a peacemaker, everyone felt that they won the case and Mama loved them the most," Skelton said.
She noted that her grandmother shared her family with the world in various fields including sports, education, entertainment, politics, business, auto mechanics, public service, the legal profession, the U.S. military, medical and hospitality fields and Information Technology.
Speaking to the lighter side of her grandmother, Skelton explained that she always urged them not to take life too seriously.
"Find time to sing. Find time to dance and find time to joke and she did that very well… whenever she was in a good mood we all knew because she would lick in her favourite road march tune… you heard that and you knew Mama was in good spirits.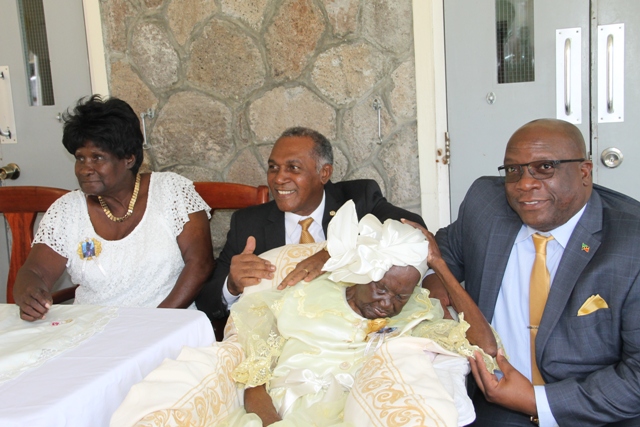 "Also, that was a good time to ask her for a little small change because she was in a good mood and each time she gave you the small change she always told you 'You are the only one I give. Don't tell the others' but in talking between each other, we realised everybody got the same thing from her," she said.
Skelton, noted that it was her grandmother's believe that one should never go to sleep carrying a grudge and taught them to speak about it, pray and leave it behind, waking up the next day welcoming a new day and a new chance to make amends for the day before and that to her was a stress buster.
She said Celian believed that life should never be taken so seriously that one is consumed with hatred and animosity.
Meantime, great-granddaughter Charine Skelton, spokesperson for the grandchildren, said they are pleased to see that Celian turned 105 years and reflected on life spent with her great-grandmother in Zion Village.
"I remember as a small kid our parents leaving us with Mama and she would watch us. She would take care of us.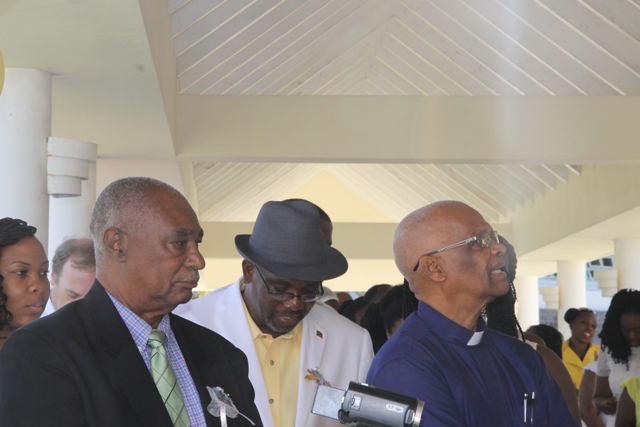 "I think one of the most important things is that she lived a stress-free life. She taught us to enjoy life. She taught us to be very faith-based and give thanks to God for everything that he has done and we are very grateful for everything that God has done for her life and for our family's life," she said.
Also attending the ceremony were well-wishers including the Prime Minister of St. Kitts and Nevis Hon. Dr. Timothy Harris, Premier of Nevis Hon. Vance Amory, Minister of State responsible for Social Services Hon. Wendy Phipps and Leader of the Opposition on Nevis Hon. Joseph Parry, her grandson Hon. Carlisle Powell and Flamboyant Nursing Home residents including centenarians Artemisia "Etty" Jeffers and Rosetta "Rosie" Morton.