Love for Nevis prompts celebrated British historian/author's novel, film on 17th century Nevisian colonist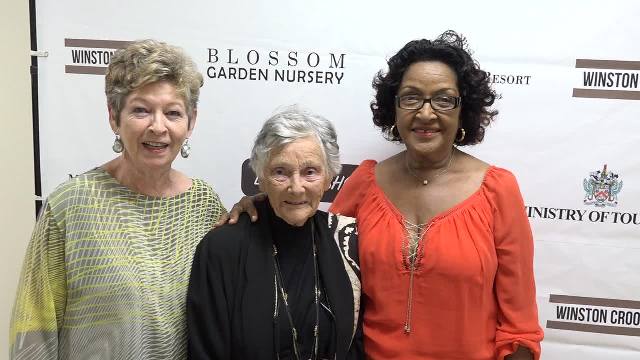 NIA CHARLESTOWN NEVIS (January 18, 2017) — Dr. June Goodfield, internationally-celebrated British historian and author said her love for Nevis led to several return visits since her first visit in 1985 and her quest to publish "Rivers of Time" in 2008, a novel about 17th century Nevisian colonist Philippa Prentice and produce the film "The Time Detective" in 2017, based on the novel.
Delivering remarks following the 50-minute television film premiere at a VIP event hosted with the Ministry of Tourism at the Social Security's conference room at Pinney's on January 14, 2017, Dr. Goodfield said she was captivated by the island and its people.
"As you would realise, there must be something special about you because in all those years I could have gone to the South Pole. I could have walked the empty quarter of the desert and you just think what I would have missed but I kept coming back to Nevis.
"As you would be clearly aware, it is because not only the quest which was fascinating and I couldn't let it go but Nevis, you got under my skin," she said.
Dr. Goodfield said on the first day of her first visit Roland Archibald showed her Philippa's tomb. On her second day she learnt that the French had burnt all the records. On the third day she had her first drink of Carib beer at Tequila Sheila's on the beach where she got into a conversation with a charming couple and began asking them questions about Nevis.
She recalled the gentleman suggesting that she speak to his brother and that he could arrange the meeting. She had no clue who his brother was but accepted the invitation and on the fourth day of her visit, she interviewed the young Vance Amory.
Thirty years later, Dr. Goodfield says she is thankful for all Nevis and its people have taught her including how to play dominoes. She singled out Jeanette Grell-Hull and Vanessa Parris for their assistance.
"I learned so much from you in other ways and in this context I want to mention Vanessa Parris and my very dearest friend Jan Grell-Hull.
"These are the people, many of you who told me things that documents don't tell you, archives don't tell you, newspaper articles don't tell you, the personal details of what women went through before slavery, during slavery, even the discrimination that took place when slavery had been abolished and thank God times have changed," she said.
She paused to pay tribute to Roland Archibald, Brian McGraff, Herman Ward and her dear friend Vince Hubbard, whom she said would have been in the film if they were still alive.
"The film and Roland and you demonstrate we have a common humanity and a common future and this is why Roland Archibald recognised this and I still wonder. I still wonder, why the family created that marvellous memorial to her. I don't really know.
"She obviously was revered. She obviously was loved and I think probably once again, the answer is very simple, that Philippa was the only surviving person in 1683 who could remember what life was like on Nevis in 1634," she noted.
Dr. Goodfield also thanked the Nevis Island Administration, in particular, Hon. Mark Brantley for his encouragement, appreciation and helping her to realise her dream.
She also thanked the film's production manager Helen Kidd, who served as the first Chief Executive Officer of the Nevis Tourism Authority for her unwavering friendship and assistance.
Meantime, Dr. Goodfield used the opportunity to speak of some of the challenges faced with the film's production.
"We had the problem of compressing 300 years of history, 25 years of research, 70,000 words in a book into 50 minutes of television time…so here we are at the end of it," she said.
The film is expected to be released internationally in the next three months.