Chamber of Industry and Commerce executive commends Nevis Premier for continued partnership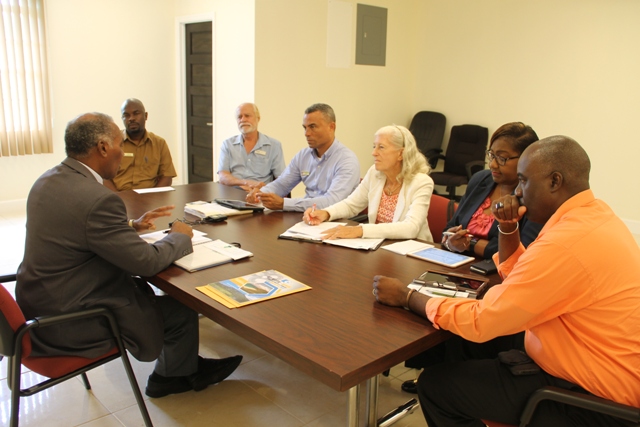 NIA CHARLESTOWN NEVIS (MAY 12, 2017) — Ernie France, Chairperson of the Nevis Division of the St. Kitts Nevis Chamber of Industry and Commerce, commended Premier of Nevis Hon. Vance Amory for the opportunity he continues to provide to dialogue on matters of importance and relevance to the private sector on Nevis.
Mr. France and other members of the Chamber's Nevis Division executive, met with Mr. Amory at the Premier's Ministry for their first meeting for the year at Pinney's Estate on May 10, 2017.
He said the interaction between the Nevis Island Administration (NIA) and the private sector is an invaluable one and the partnership is the way they could grow and move the country forward.
Among the topics discussed were development projects, the crime situation and an update on the geothermal project.
Deborah Lellouche, the Division's Executive Administrator, added that they are appreciative of the Premier's openness, reception and informality. She said the organisation is always ready to corporate with the NIA on matters involving the private sector.
In response, Mr. Amory stated that he is always pleased to be able to have discussions on any matter to do with the development of Nevis especially with the private and public sectors. He said that type of partnership is critical in Nevis or any other developing country.
He said the discussions are useful and provide an opportunity to have a firm plan in place for the future, to ensure that there is ongoing development, increased employment and investment so that people would be able to earn a living.
The other members of the executive present were Alice Tyson of Lefco Equipment Rentals and Construction Co. Ltd., Oscar Walters of Horsfords Nevis Center, John Yearwood of Oualie Beach Resort and Oualie Realty and Warren Moving of TDC Group of Companies who serves as the treasurer.