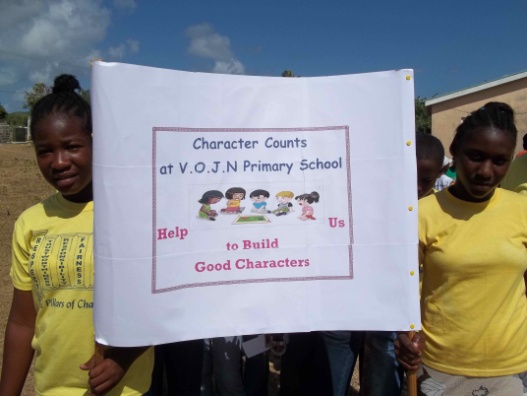 Charlestown, Nevis ( Friday, July 13, 2012)–
Staff, students and parents of the Violet O. Jeffers-Nicholls Primary School recently took to the streets for the Character Counts Walk-a-thon to culminate and celebrate a successful first year of the innovative Character Education Program.
Donning brightly colored T-shirts depicting the six pillars of good character: respect, trustworthiness, responsibility, fairness, caring and citizenship, the participants marched through the school's surrounding villages to share with the community the importance of character-building and good citizenship to the maintenance of a strong and productive society.
Led by the Grade 6 class, carrying the banner bearing the program's motto: Character Counts, students recited the character education pledge, sang uplifting songs, and distributed book-marks to passers-by highlighting the various character traits learned and practiced during the school year.
During the walk, three respected community elders and former teachers of the school were visited – Mr. Farrell Smithen, Mrs. Violet Jeffers-Nicholls and Mrs. Eileen Walwyn – who all offered words of encouragement to the students, and emphasized the role that good manners play in personal growth and self-advancement.
After the walk-a-thon, participants were asked what they liked best about the program.
Rodison, a Grade 2 student, said: "I leaned about respect, caring for each other, and good sportsmanship."
Veshari, a kindergarten student, said that she is better at sharing because of the program, and Shakera Charles, a former VOJN student who accompanied the school on the walk, lamented that she graduated before the program was introduced, yet was encouraged by motivational speeches of the community elders to continue working hard and striving to be the best, for future success. She said she would share these messages with her peers at the Gingerland Secondary School.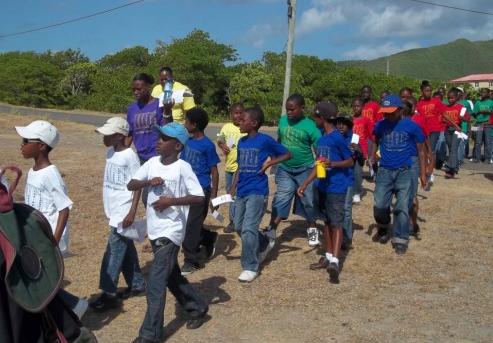 Character Education Specialist, Mrs. Sasha-Gay McDermott said that based on feedback from staff, students and parents the activities of the program have helped to develop pro-social values in students, strengthen the bond between the school and the community, and contribute to a positive social culture.
On commenting on the program, Permanent Secretary in Education- Mrs. Lornette Queeley-Connor expressed how proud she was at the direction of the newly introduced program, and said, "given the positive impact of the program, Character Education will continue at VOJN for the 2012-2013 school year, and will be expanded to additional primary schools in subsequent years."