Chilean Ambassador to SKN pays courtesy call on Leader of the Federal Opposition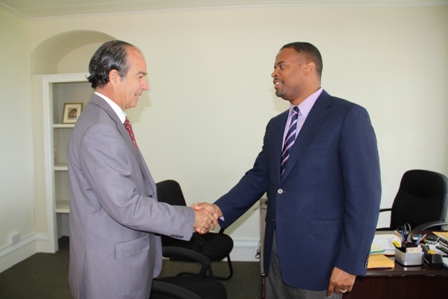 NIA CHARLESTOWN NEVIS (March 20, 2013) — Ambassador from the Republic of Chile to St. Kitts and Nevis His Excellency Eduardo Bonilla Menchaca, paid a courtesy call on Leader of the Federal Opposition Hon. Mark Brantley following a visit to Premier of Nevis Hon Vance Amory on March 19, 2013.
The visit came while the Ambassador was in St. Kitts and Nevis to present his Letter of Credential to Governor General His Excellency Mr. Edmund Lawrence. In a brief statement, Mr. Brantley told the Department of Information about their discussions during the visit.
"I was very pleased to meet him and one of the things that we discussed and he pledged his support on was to work toward visa waiver between Chile and St. Kitts and Nevis so as to allow a freer flow of our people between the two countries.
"We also discussed some cooperation in relation to fishing which he was very keen on and he indicates that their Director of Foreign Affairs will be visiting the region very shortly and the hope would be that we have an opportunity to continue those discussions," he said.
Mr. Brantley who is also the Deputy Premier of Nevis and Minister of Tourism in the Nevis Island Administration (NIA) also noted that they did speak on various aspects of the island's tourism.
"In addition, the Ambassador expressed his love for Nevis, just having been here for the first time. He told me that he had visited the Four Seasons Resort and he was fascinated with the island and even promised to come back as a tourist with his family and perhaps he said to look at the possibility of acquiring property here.
"It was a very interesting discussion, he indicated that Chile had a large number of wealthy individuals who he feels might find Nevis and the premier upscale destination that we offer attractive and I encouraged him, of course in my other capacity as Minister of Tourism to spread the word about Nevis and hopefully we will see some traffic flowing to Nevis from Chile and from his visit," he said.
In conclusion Mr. Brantley said they pledged to keep in touch as he looked forward to the continued cooperation between the Republic of Chile and St. Kitts and Nevis.