Christmas-themed Schools in Concert Planned for this Evening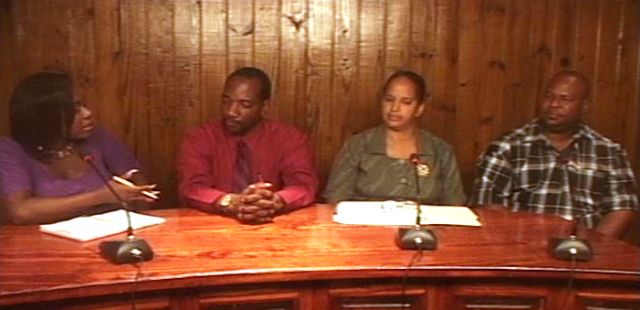 NIA-CHARLESTOWN, NEVIS (December 13TH, 2011) —
"If you do not attend this concert, you would regret it for the rest of your life," were the words of Principal of the Charlestown Primary School Mr. Kevin Barrett, as he recently invited the Nevisian community to attend Schools in Concert 2011.
Mr. Barrett, who also represents the event's participating schools, was at the time accompanied by fellow committee members, Mrs. Carla Liburd and Mr. Rohan Claxton, during a televised interview with the Department of Information.
The annual concert, slated for this evening [Dec. 13] at the Nevis Cultural Complex in Charlestown, would feature performances by primary and secondary school students.
Described as "one of the highlight events of the Christmas term," Schools in Concert was initiated in the 1980s and has since showcased the talents of the island's children and the creative capabilities of the teachers.
"I'm encouraging everybody to come on out and enjoy what we have this year. We have been doing the Schools in Concert, if I could recollect, from since 1987.
"From year to year, I think it is becoming better and better and I am hoping that the trend continues this year. We are looking forward to as much persons coming out as possible," Mr. Barrett said, adding that "Children have a way of being at their best when there is an audience."
Meantime, Mr. Claxton, Music Tutor assigned to the Gingerland Secondary School, said that although tonight's performances would range from "singing and dancing" to "poem reciting, drumming and dramatising," the concert would be mainly focused on choirs.
"We're trying to feature all the talented boys and girls to showcase their skills in singing.
"We're trying to make a difference between Schools in Concert and Music Expose so, this year we'll be focusing on choirs and more dramatisations, then next year when we get into Music Expose, the skills of the students, performing different instruments, would be showcased," he explained.
When asked why the annual event was scheduled for during the Christmas break, Mrs. Liburd, the Ministry of Education representative on the organising committee, referred to the "close relationship" between the Ministry and Department of Education and the schools' principals.
"For the last two weeks of the Christmas term, the schools have been having their own functions, like Christmas programmes, and it was suggested, instead of interrupting their schedules, we should have it [the concert] in the first week of [the] Christmas vacation," she said.
Tonight's concert, which is expected to commence at 6pm, would feature an appearance by Santa Claus who, according to Mrs. Liburd, would be "distributing gifts."
Children who attend the concert would be required to pay a $5 admission fee while adults would be charged $10 upon entrance.