Nevis Teachers honoured for outstanding contribution to Education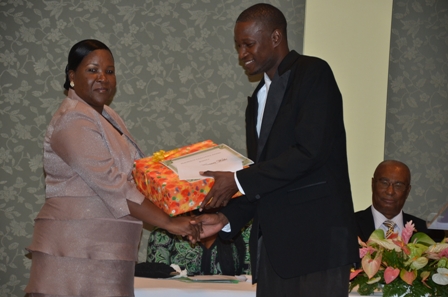 A select group of teachers on Nevis were honoured by the Department of Education for their outstanding contribution to Education, at the annual Teachers of Excellence Awards Ceremony at the Four Seasons Resort on December 10, 2011.
Principal Education Officer on Nevis Mrs. Lornette Queeley-Connor in her remarks at the ceremony thanked the awardees for their dedication to building the foundation of the society.
"Thank you ladies and gentleman for the effort you have put into building the foundation of our society. Thank you for your commitment and your dedication. Thank you for your patience and understanding. Our world would not have faired very well without you," she said.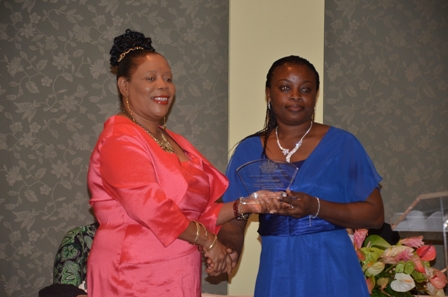 According to Mrs. Queeley-Connor, the Department of Education had again come forward to honour the service of its distinguished men and women, who over the years had contributed selflessly to the development of Nevis.
She pointed to the varied cultural backgrounds of the awardees and noted that it reflected the rapidly growing cultural diversity within the society and in particular the schools.
It was for that reason she explained the importance of appreciating the many challenges which came with attempting to hone a multiplicity of skills, abilities and cultures in an attempt to cater to the needs of every child within the context of the traditional single-approach-common-goal classroom.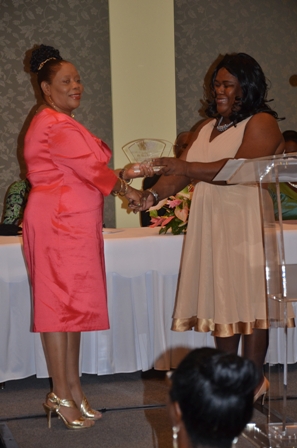 "It is not necessarily the easiest of tasks and so it is extremely heart warming for me to be able to openly express my gratitude and deep appreciation to these educators who so graciously weather the tide of a 24/7 battle of the many social ills and sometimes dim academic prospects," she said.
A total of eight teachers who met the requirements qualified for the coveted title of Teacher of Excellence. They were Guidance Counsellor Mrs. Lineth Williams, Mr. Kirmani Webbe, Ms. Tanisha Dalton, Ms. Petrona Freeman, Ms. Shenella Joseph, Mrs. Suzette Sampson, Ms. Trecia Williams and Ms. Adebimpe Akomolafe.
Each honouree of the Teacher of Excellence category received a plaque, a certificate of recognition, a laptop and a cash award. In that category the nominee was selected by their peers and approved by the Principal. They were also required to submit a teaching portfolio, a video recording of their class in session and a pre recorded interview which was aired on NTV Channel 8 prior to the awards ceremony.
The second category acknowledged was Exemplary Reading Recovery Teachers Mrs. Terres Dore, Mrs. Julie Pemberton, Mrs. Judy Parris-Rawlins, Mrs. Omelle Browne and Ms. Leona Freeman.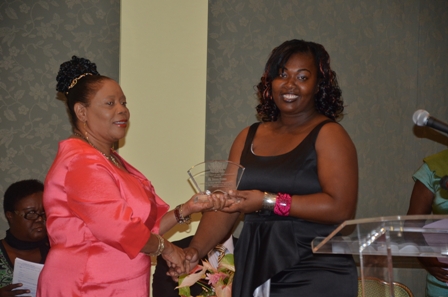 In the third category Recent Retirees Mr. Oliver Beazar and Mrs. Gurtis Brown were invited to share the spotlight that night as well.
Mrs. Queeley-Connor also spoke to the issue of commitment and described it as a willingness to be uncomfortable, to stay on track even if something seemed too hard or took too long. However, she said it had become disappointingly commonplace for individuals to shun accolades either out of humility and fear of the spotlight or in silent protest of perceived disenfranchisement.
Notwithstanding, she lauded the awardees for their graciousness having stepped forward with thankful hearts and smiling faces to acknowledge a genuine demonstration of love, confidence and honour which was bestowed on them by the Department of Education , their peers and their respectful school communities and added that, that was what she called commitment.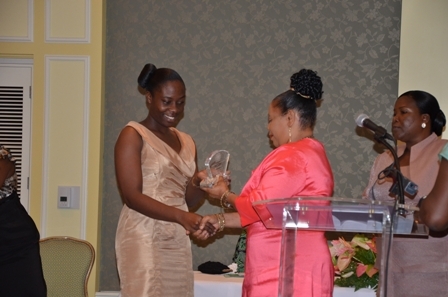 Mrs. Queeley-Connor further encouraged the awardees to continue on a positive path and shared some advice.
"Remember always to commit yourselves to constant self improvement. I like to subscribe to what I refer to as the airplane principle where one is encouraged in the event of an emergency to put on his oxygen mask first before he tries to help the person next to him. If we are not prepared to help ourselves, how can we help other people?
"I am sure you will agree with me when I say that the joy is truly in the journey. As we all know, one of a person's greatest emotional needs is to feel appreciated. Start therefore by appreciating yourself and the rest will come easily. Don't stop working; the best of your life is just around the corner," she said and noted there are even greater rewards ahead once they stayed true to themselves and held fast in faith to the strength of their creator.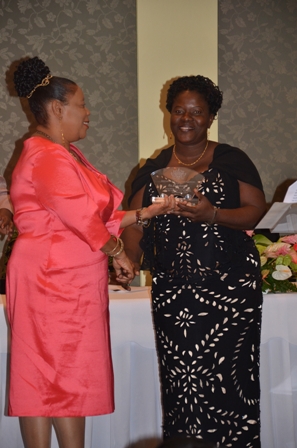 Also present at the Awards Ceremony was Premier of Nevis and Minister of Education in the Nevis Island Administration Hon. Joseph Parry, deputy Premier of Nevis Hon. Hensley Daniel and his wife Mrs. Sonita Daniel, other Education Officials and invited guests.