Citizens and friends of SKN in Dubai celebrate Federation's 33rd Independence Anniversary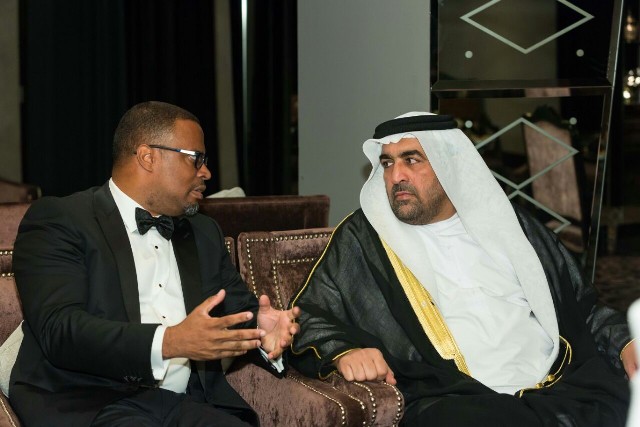 NIA CHARLESTOWN NEVIS (November 29, 2016) — Some 300 citizens and friends of St. Kitts and Nevis in Dubai, on Saturday November 26, 2016, joined in the celebration of the Federation's 33rd Anniversary of Independence.
During a gala dinner held in the Dubai ballroom at the J.W. Marriott Marquis Hotel on November 24th, guest of honour, His Excellency Dr. Rashid Ahmed Mohammad Al Fahed – Minister of State in the UAE Government, and several other members of the diplomatic corps in the region were in attendance.
Consul General at the consulate of St. Kitts and Nevis in Dubai Justin Hawley, gave his inaugural speech and conveyed special greetings from the Hon. Prime Minister Dr. Timothy Harris.
Minister of Foreign Affairs the Hon. Mark Brantley re-assured citizens they are welcomed, loved and are an integral part of the tapestry of St. Kitts and Nevis. He encouraged them to respect and protect the reputation of their country.
Minister Brantley had high praise for the consulate staff who organized the prestigious event and was pleased to learn that scores of citizens in attendance intended to visit St. Kitts and Nevis in the next few months.
Awards of appreciation were presented to Mohammed Motevassel, Giselle Bru, Rowaida Hakim and Media Motion Public Relations for their consistent support to the consulate general over the past year.
Additionally, Nevisian artist Vaughn Anslyn was presented with a plaque for his recent contribution to the consulate.
Anslyn, volunteered his time and expertise to paint a mural depicting life in St. Kitts and Nevis on a wall in the new offices of the Consulate General of St. Kitts and Nevis, which was relocated to the Dubai Marina area earlier this month. Several pieces of Anslyn's work were on display in the ballroom foyer.
Minister Brantley, Consul General Hawley and Deputy Consul General Wilkin-Armbrister also used the occasion to interact with the invitees.