Clinton Foundation offers Nevis assistance with renewable energy thrus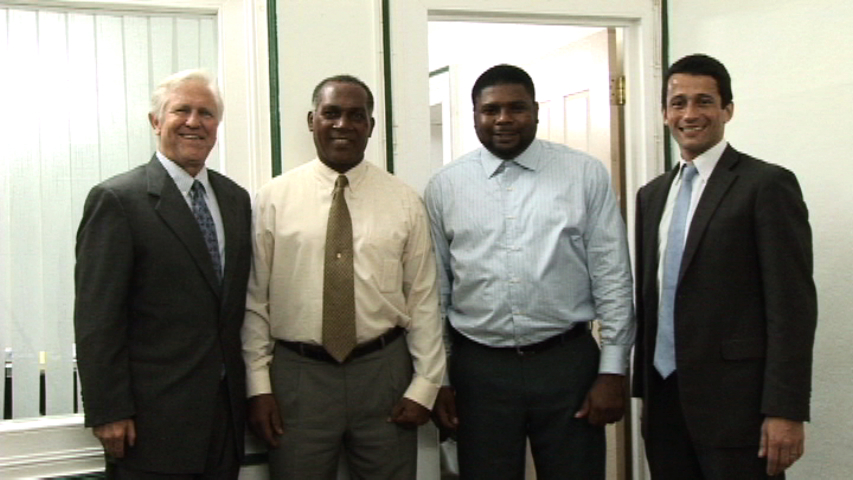 NIA CHARLESTOWN NEVIS (November 06, 2013) — Premier of Nevis Hon. Vance Amory described as meaningful, helpful and timely discussions with a two-member delegation from the Clinton Foundation climate initiative, who were on Nevis to offer assistance to the Nevis Island Administration (NIA), in its thrust toward renewable energy and other associated environmental projects.
Mr. Amory met with Global Director Mr. Jan Hartke and Programme Manager Mr. David Alcaly at a meeting at his Bath Plain Office on November 06, 2013 with Junior Minister responsible for Natural Resources and the Environment Hon. Troy Liburd and Permanent Secretary Mr. Ernie Stapleton.
"I think the interaction we had this morning was really very meaningful, very helpful and I think you have come at the right time because we are at the point of discussing with persons, agencies, businesses which have sent proposals on the way in which they want to develop geothermal energy, renewable energy in Nevis.
"We are at that point where we are discussing with them and selecting the best proposal and the best company to do the work for us and so your coming this morning has helped us to have a better understanding of where your foundation, the Clinton Foundation, stands on this and your offer, I think, of assisting us to ensure we get the best, once we continue along this path, is really very, very encouraging," he said.
Mr. Amory assured that the Administration would follow up and develop the discussions that were held and would endeavour to use renewable energy that would make life better for the people of Nevis.
"I know we will follow up and crystallise the discussions we have had this morning and try to tie renewable energy into making things better for the people of Nevis both socially and economically and to ensure that businesses will benefit from the use of renewable energy.
"The lower charges which we expect will accrue from development of this energy source will also be able to expand their investments and expand their businesses and enable us to attract any other investors because when all is said and done as we discussed, it is important that whatever we do redounds to the benefit of our people and make their lives better in the short run and also in the long run," he said.
Meantime, in brief comments Mr. Hartke explained the Foundation's climate initiative goal for small island developing states.
"I work with the Clinton Climate Initiative Clean Energy and our goal is to try to help small island developing states move toward renewable energy which will hopefully reduce electric rates which we know are burdensome; make a dent in the climate issues and to find champions among island leaders, for the idea that progress can be made, economics can be better," he said.
The Global Director noted that both parties were in agreement with the way forward for the implementation of renewable energy on Nevis and would work together to make it a reality.
"Environmental protection and climate change can all go hand-in-hand and so we had a wonderful meeting this morning with the Premier and I think we see eye-to-eye on how to move forward on bringing renewable energy to Nevis and how to be able to work together on a variety of programmes that would relate to environmental issues and climate issues but also help on the economic front.
"So I would just say our meeting went spectacularly. We are very glad to be here and I think that we have heard his vision. We have listened to his strategy for action and we are certainly looking forward to working with him and the government and the leadership that we have seen exhibited here in every way we can," he said.
Mr. Alcaly in brief remarks underscored the Foundation's commitment to supporting island leadership on clean energy projects which he stated would reduce the consumption of diesel fuel and lower energy prices.
He added that he was pleased to learn of Premier Amory and the NIA's commitment to push forward with geothermal and other renewable energy projects and looked forward to the future partnership with the Foundation's clean energy initiative.