Commit an offence; see you in court after Culturama, warns Police Superintendent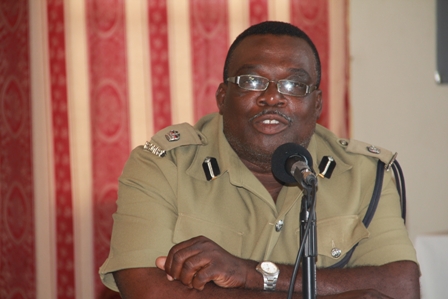 NIA CHARLESTOWN NEVIS (JULY 12, 2012) —
Culturama patrons were warned by Police, ahead of the upcoming festive season slated for July 26th to August 7th 2012, that crime in any form would not be tolerated. The no nonsense warning came from Officer in Charge of the Royal St. Christopher and Nevis Police Force, Nevis Division Superintendent Hilroy Brandy at a press conference to launch the annual summer activity.
The conference was hosted by the 2012 Culturama Committee on June 6th 2012 at the Red Cross Conference room on Chapel Street.
"Once you commit an offence during Culturama, bail will be objected to very strongly. We will see you after Culturama at the Court. So please, let it be known quite clearly, that once you violate any laws, no matter how simple, we will try all in our powers to get you remanded at Her Majesty's Prison until after Culturama," he stated categorically.
Mr. Brandy said like any festivity on Nevis, the safety of members of the public during Culturama was a top priority for the Police. He added that members of the Police Force would be present to support Culturama and to ensure it was safe and incident free.
The Senior Police Officer said they would soon make available to the public both crime and traffic tips and they would also be advised on how traffic would flow in and around Charlestown for the season.
He also noted that the Police would enforce other policies among them the manner in which drinks would be sold and the security of licensed firearms.
"We will also be enforcing the policy and no glass bottled drinks will be sold. So please send the message, the police will not allow vendors and owners of booths to sell any drinks in glass bottles, you must serve all drinks in a plastic cup.
"Licensed firearms will not be allowed at any of the activities for Culturama. If you are coming to the Queen Show the Calypso Show the J'ouvert you can leave your firearm at the Charlestown Police Station. Someone will be there to take your firearm, make a record of it and at the end of the festive season you can come and collect your firearm. At the end of the Calypso Show you can come and collect your fire arm, at the end of the Queen Show you can come and collect your fire arm but please, you will not be allowed to take your fire arm to any activity. The Police would be at the gate and will be doing scanning so please do not try to conceal your weapon to take it into Culturama," he urged.
The 2012 Culturama celebrations will be held under the patronage of Mr. Victor Elmos Jeffers a resident of Westbury Village, with the theme "Our Identity! Our Survival!! 2k12 Culturama Festival".