Commonwealth Secretariat delegation pays courtesy call on Nevis Premier ahead of regional conference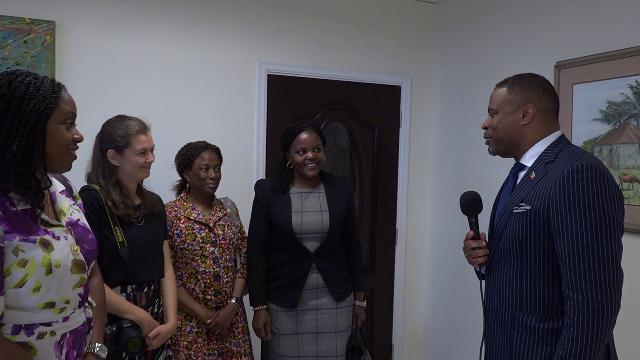 NIA CHARLESTOWN NEVIS (June 21, 2019) — Dr. Tres-Ann Kremer, Adviser Caribbean and Head of Good Offices for Peace in the Commonwealth Secretariat says, the two-day conference for women and youth which will be held on Nevis from June 25-26, 2019, will serve as a starting point for community dialogue on the issue of peace and security in St. Kitts and Nevis.
Dr. Kremer made the comment when a four-member delegation paid a courtesy call on Hon. Mark Brantley, Premier of Nevis at his office at Pinney's Estate on June 21, 2019, ahead of the regional conference.
"The Commonwealth is very supportive of peace and security issues and how the Caribbean in particular and across the Commonwealth respond to this, and we are aware that St. Kitts and Nevis has been considering how to also look at this issue… towards that end we have teamed up with the Ministry of Gender and Health here in Nevis to roll out a programme of community dialogue.
"So this engagement really marks the start of that where we have invited others from the Caribbean region here to St. Kitts and Nevis and what we intend to do over the next few days is really just have a discussion as to what a collective response to this could look like involving the community in enabling dialogue spaces where we get people to discuss how women, how young people can work together and help to really mitigate this issue," she said.
The Commonwealth Secretariat official added that  His Excellency Dr. Kevin Isaac, St. Kitts and Nevis High Commissioner to the United Kingdom had been very helpful in advancing, the Federation's interest in exploring the issue of peace and security.
Meantime, Mr. Brantley, welcomed the team from the Commonwealth Secretariat's headquarters in London to Nevis and he expressed his delight with their presence on Nevis.
He told the all-female group that he is hopeful they would enjoy their stay on the island and that he is looking forward to a good conference.
The other members of the Commonwealth Secretariat delegation were Ms. Elizabeth Bkibinga-Gaswaga, Legal Adviser; Ms. Sonali Campion, Programme Officer; and Ms. Helene Massaka, Programme Assistant.
The conference which is sponsored by the Commonwealth Secretariat, in collaboration with the Ministry of Health and Gender Affairs, with the theme "Women and Youth Participation in Community Dialogue South-South Approach for peace and security in the Caribbean," will bring together women and youth from around the Caribbean including Commonwealth Youth Ambassadors.