Senior RSCNPF officer stationed on Nevis continues to call for more public support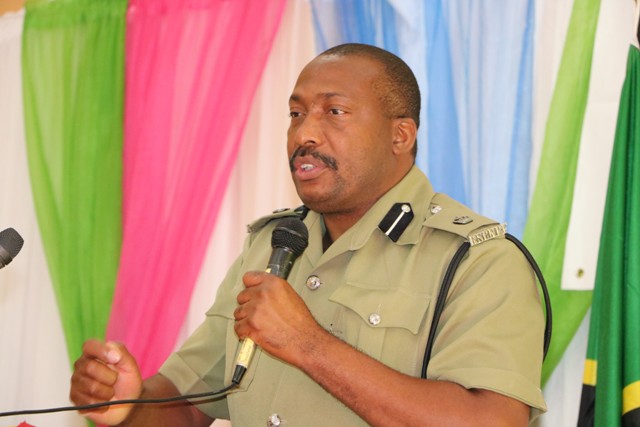 Senior RSCNPF officer stationed on Nevis continues to call for more public support
NIA CHARLESTOWN NEVIS (June 20, 2019) — Superintendent Lyndon David, Divisional Commander of Division C of the Royal St. Christopher and Nevis Police Force (RSCNPF), is calling on members of the community to give more support to the police force.
The senior police officer made the comment when he spoke to the Department of Information in a recent interview.
"I am encouraging our community to support your police force. It is your police force. We are working for you, and we want you to know that we are your friends. We are there to protect you so we are the vanguards of our society. Without the police we believe there will be chaos and we want persons to understand that.
"Yes we know that there are times one or two of us will do something or say something that is not pleasing to you and pleasing to the law but that's not the entire force. So look at that individual officer, inform us so we can take the appropriate actions and just continue to realise that the police can only be as good as the society wants them to be.
The senior police officer also encouraged members of the community to show more concern for each other.
"Sometimes we go out and do an honest performance of duty and…might result in a law suit or something like that but we are saying, yes your son you love, your daughter you love but once they run afoul of the law  let it take its course… You say 'Son, daughter I am disappointed in you'…as opposed to go and curse the police, curse the government, curse the victim, curse anybody who say that the victim was right and your son was wrong.
"Let us move away from that and love more. We need to love more and we will see that things will change the way we like it to be, not 100 percent but at least we will get closer to it," he said.
Superintendent David noted that the police is working on a number of initiatives in an effort to forge a closer relationship with the community, some of which have been already implemented.
"We walk through various communities. We interact with members of the community, find out some of their problems. We have our School Liaison Officer programme where we go into the schools. An officer is assigned to a school, to speak with the principal, teachers, students just to find out the issues that are there, and find out how best the police can address and give some tips also.
"We have Meet and Greet, so we go out in the community, meet persons, speak with them, find out what is going on and we are going to interact with more clubs and groups…We are available to speak to any group on any issue they would like to.
The senior police officer added that police officers are being encouraged to participate in sports and any other activity which would help them to interact with the community.
He said the police plans to revive its community meetings. They also plan to have a greater presence in the local media which would allow the public to voice their concerns and during which they would be able to receive immediate answers from the police for their questions.