Construction work commences on new water taxi pier at Oualie Bay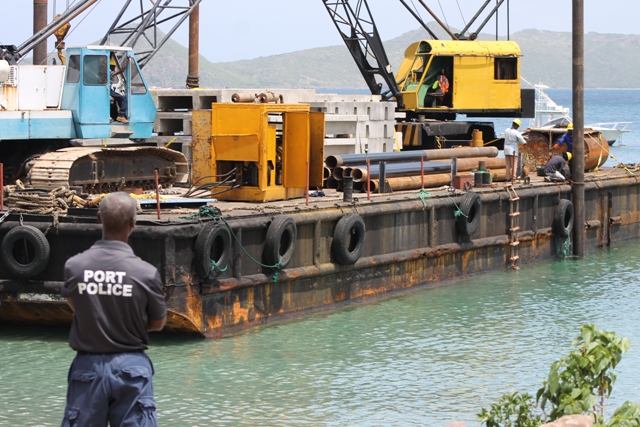 NIA CHARLESTOWN NEVIS (June 18, 2018) — Work, which has commenced on the new water taxi pier at Oualie Bay is expected to be completed in time for the Culturama Festival in July/August.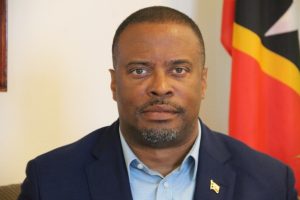 Hon. Mark Brantley confirmed that work had begun when he spoke to the Department of Information on June 18, 2018, following the arrival of equipment from St. Maarten on June 15.
"I think some members of the public have seen some movement at Oualie where we are undertaking the construction of a pier facility to accommodate our water taxis.
"Certainly the barge has now arrived. We are told the pilings are going to be put down shortly and that pier is going to be constructed," he said.
Mr. Brantley noted that the project which is being headed by Hon. Alexis Jeffers, Deputy Premier of Nevis, was conceptualised to assist water taxi owners who ply their trade in that area.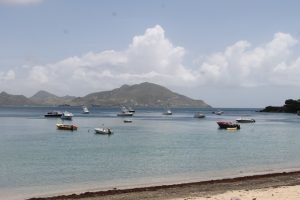 "We are listening to the ever-growing numbers of individuals involved in the water taxi business. It is certainly a business that is predominantly Nevisian-owned and has a large number of our people employed in it.
"This is something we want to encourage. This government is committed to encouraging small and medium-sized businesses as the backbone of our local economy and so we are very pleased that the construction activities have started," he said.
The $6 million project is being funded by the Sugar Industry Diversification Foundation (SIDF). Mr. Brantley explained that it is one of several projects for which the NIA was able to acquire funding from the SIDF, funds for which is derived by the St. Kitts and Nevis Citizen by Investment Programme.
He added that the administration is pleased to have been able to secure the funding for the state-of-the-art pier which will have a reception area and parking so that patrons will have an easier point of access and egress when using the water taxi service that has developed in the area.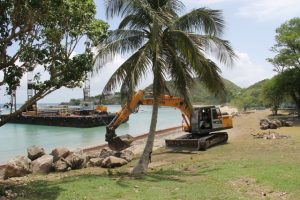 The Premier used the opportunity to applaud Minister Jeffers for the work he has done on the project.
"We are very happy that we have been able to secure the funding for that and from my understanding, all the funding is in place.
"It's just a question of all the contractors doing what they are supposed to do and the delay is largely associated with the contractors making themselves available and coming to Nevis to have it done," he said.
He noted that the NIA is in full support of the project and had conducted consultations with the public, which large numbers of people attended.