Cotton Ground Youth thanks Area Rep for keeping promise of a community centre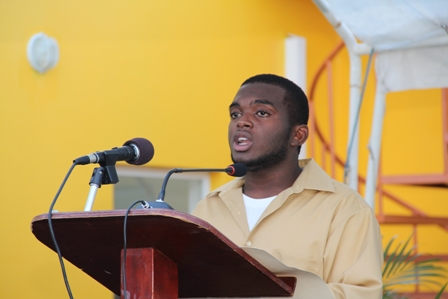 NIA-CHARLESTOWN NEVIS (December 19, 2011) —
Mr. Jeson Leblanc a youth from the Village of Cotton Ground publicly thanked Area Representative and Premier of Nevis Hon. Joseph Parry, on behalf of the village youths for having kept his promise to ensure construction of the first ever community centre in their community.
He was at the time delivering remarks and gave a Youth's Perspective on use of the community centre which was officially opened on Saturday 16th December 2011 by Mr. Parry along with a village senior Mrs. Alison Cornelius.
"Honourable Joseph Parry, we the youths of Cotton Ground are very grateful that you are our area representative. You have truly delivered. To all of Nevis, performance matters!" he said.
Notwithstanding, he urged all in the community to make good use of the facility and to care for it, as they endeavoured to continue to unite as a close knit family. He said he had no doubt the community centre would become a medium to achieve that goal.
Mr. Leblanc noted that a community centre was a facility used for the enhancement of social and technical skills of people, community as well as a place that sustained the area's rich culture.
He explained that the Centre housed a computer lab which would be of great importance to the society, given the rate at which the world was becoming technologically advanced, therefore the computer programmes offered would make youths more computer literate and more marketable in the world of work.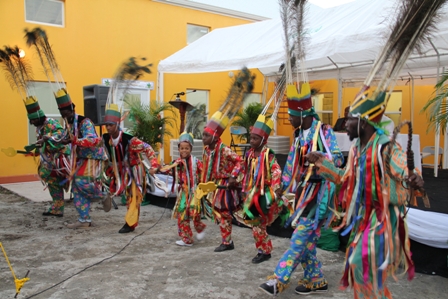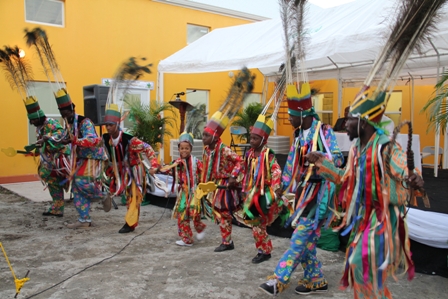 The Cotton Ground Youth also spoke to the other planned programmes that would be offered through the Ministry of Social Development.
"Programmes and workshops can be implemented to train not only the youths but the adult figures in the community and the country itself in different trades such as plumbing electrical work carpentry and others," he said.
"The five training rooms which are located in this community centre could very well be put to exceptional use. Programmes which have already been implemented for example homework assistance programmes, the Reading Starts With Us programme and the Bikes not Bombs programme can now have a space right in the heart of the village from which to operate," he said.
Regarding the auditorium at the facility, Mr. Leblanc noted that it should be at the heart of community events at least once a month which would bring young and old together to interact in both in and outdoor activities.
He suggested a list of activities including chess, checkers, scrabbles, playing steel pan, dancing the masquerade and table tennis.
"In this way seniors can share their life stories with the youths of the village and continue cultural heritage practises such as basket weaving," he said.