CSS Staffroom Expanded…NIA Applauded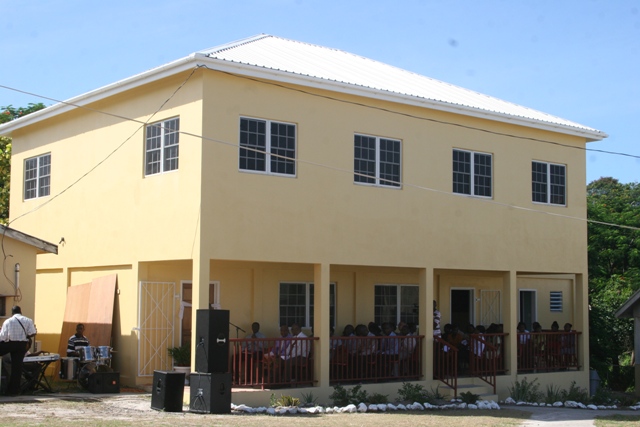 Staffroom at the Charlestown Secondary School
CHARLESTOWN NEVIS (September 21, 2010) — "A promise made is a promise kept!" Those were the words of Permanent Secretary in the Ministry of Education Mr. Joseph Wiltshire at last week's commissioning ceremony of the Charlestown Secondary School's [CSS] staffroom.
"The expansion of the staffroom," Wiltshire said "signals a major improvement in the working environment of the staff of 75 at the Charlestown Secondary School."
The on-site ceremony saw the participation of students, staff and government officials as together; they celebrated the official opening of the long-awaited staffroom.
Principal of CSS Mr. Edson Elliott, who described his feeling as one of "elation" expressed his gratitude to the NIA and said the expansion was timely due to the lack of space afforded to the schools' teachers.
"The Nevis Island Administration must be applauded for giving some priority to the CSS staff.
"For years we have operated from some trying conditions without losing focus on providing opportunities for our youths. I have seen my teachers operate with good results from the verandah, from under the trees, from their cars simply because there was no room in the inn.
"Relief has come and we are extremely grateful to all responsible," Elliott said.
Project contractor, Mr. Keithly Tross of Tross Construction presented the project overview and he too expressed words of gratitude to the NIA.
"I take this opportunity to thank the Nevis Island Administration for the confidence they had in Tross Construction to accomplish this job," he said.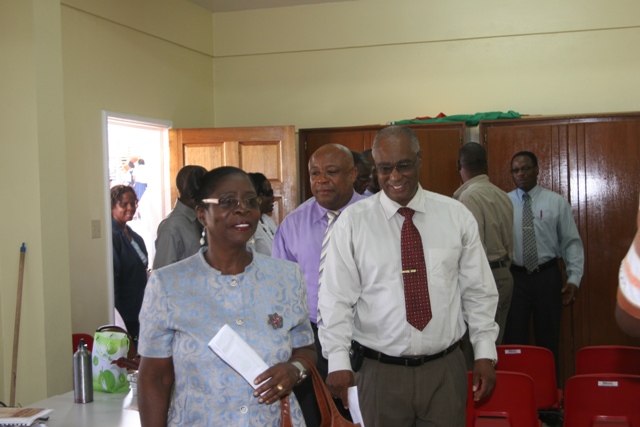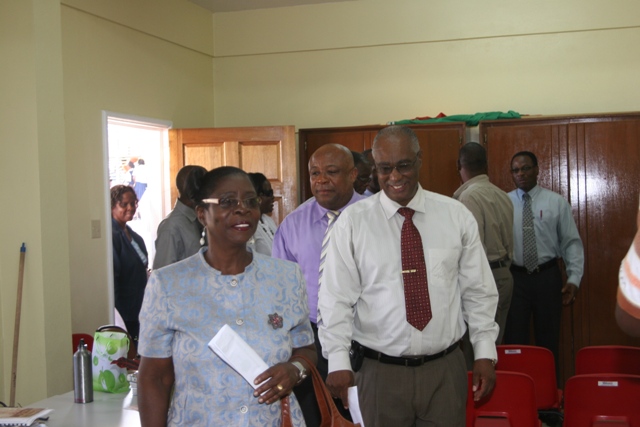 Government officials touring the CSS staffroom
According to Tross, the project was undertaken in two parts with the addition of four classrooms, a staircase and a verandah in part one and the demolishing of the initial floor and roof and the construction of columns, office space, kitchenette and toilets in part two.
"The task seemed insurmountable but with God at the forefront my employers were very determined that we could accomplish this contract agreement and we took the challenge.
"The staffroom started on the 14th of September 2009. The physical building was complete on December 18th 2009 with minor works on the air condition to be done," Tross said.
Also present at the Commissioning Ceremony were Premier of Nevis the Honourable Joseph Parry, Deputy Premier the Honourable Hensley Daniel, Cabinet Secretary Mr. Ashley Farrell, Advisor to the Ministry of Education Mrs. Christine Springette, Principal Education Officer Mrs. Lornette Queeley-Connor, Education Planner and Consultant Dr. Bronte Gonzales, Permanent Secretaries, teachers and students of the Charlestown Secondary School.
The staffroom's expansion was an initiative taken by the island's Premier, the Honourable Joseph Parry following one of his visits to the school.