Nevis Culturama 49 heats up as core activities kick off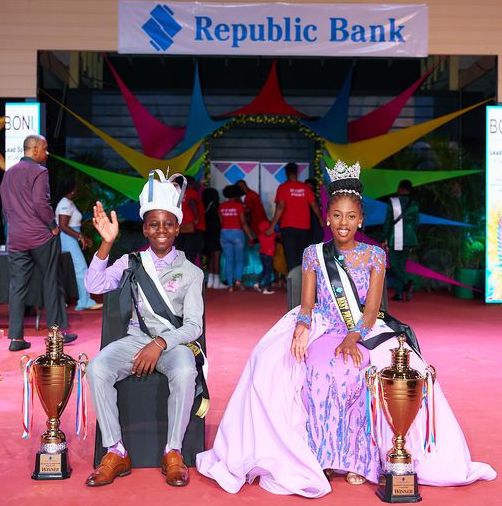 NIA CHARLESTOWN NEVIS (July 31, 2023)- Nevis Cuturama 49 had its official opening on July 27, 2023 and the core activities have begun, starting with the Republic Bank Mr. and Miss Talented Youth Pageant on Sunday, July 30.
Seven schools competed and after four segments of keen competition the team of Tiniah Wills and Jai'eem Sturge of the Elizabeth Pemberton Primary School, sponsored by Clive Evelyn Construction, were crowned the winners with a total of 901 points. The duo also won Best Speech, and Best Formal Wear.
The Montessori Academy team of Myesha Jeffers and Abhijith Srinivasan amassed 899 points to take 1st runner up with Best Creative and Best Performing Talent; 2nd runner up went to St. Thomas Primary's Jarvarni Hamilton and Jonicia Hill with 855 points, while 3rd runner up went to Nevis Academy's Kejohné Hill and Isaiah Herbert with 830 points.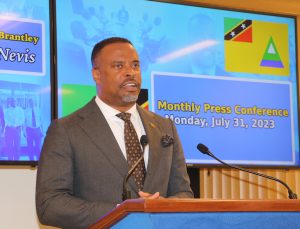 During his monthly press conference on Monday, July 31, Premier of Nevis Hon. Mark Brantley congratulated all of the participants in the youth pageant, with special congratulations for the winning school.
"Let me congratulate the school from my constituency, I'm proud to say, the Elizabeth Pemberton Primary School that won the Mr. and Miss Talented Youth Pageant on Sunday evening."
Premier Brantley took the opportunity to welcome returning nationals visiting Nevis to host family reunions and participate in the Culturama festivities, as well as the thousands of Kittitians who are expected to travel to Nevis during the Culturama celebration.
"Culturama is in full swing and we welcome home all of those who have come from abroad to be with us. We welcome of course our brothers and sisters from St. Kitts who we know will be over in large numbers, and we wish everyone a wonderful Culturama season. Please be safe and party responsibly," he said.
Some of the core activities happening this week include the Bank of Nevis International (BONI) Night of Steel and Five-A-Side Panorama Contest on July 31, the Flow Miss Culture Swimwear Contest on Tuesday, August 01, Green House Band Junior Kaiso Contest on Wednesday, August 02, National Bank Soca Monarch Finals on Thursday, August 03, Department of Agriculture Fruit Festival and TDC Senior Kaiso Contest on Friday, August 04, and the National Bank Culturama 49 Art, Craft and Food Fair on Saturday, August 05.