Official welcome for Global Support and Development M.V. DAWN during inaugural visit to Nevis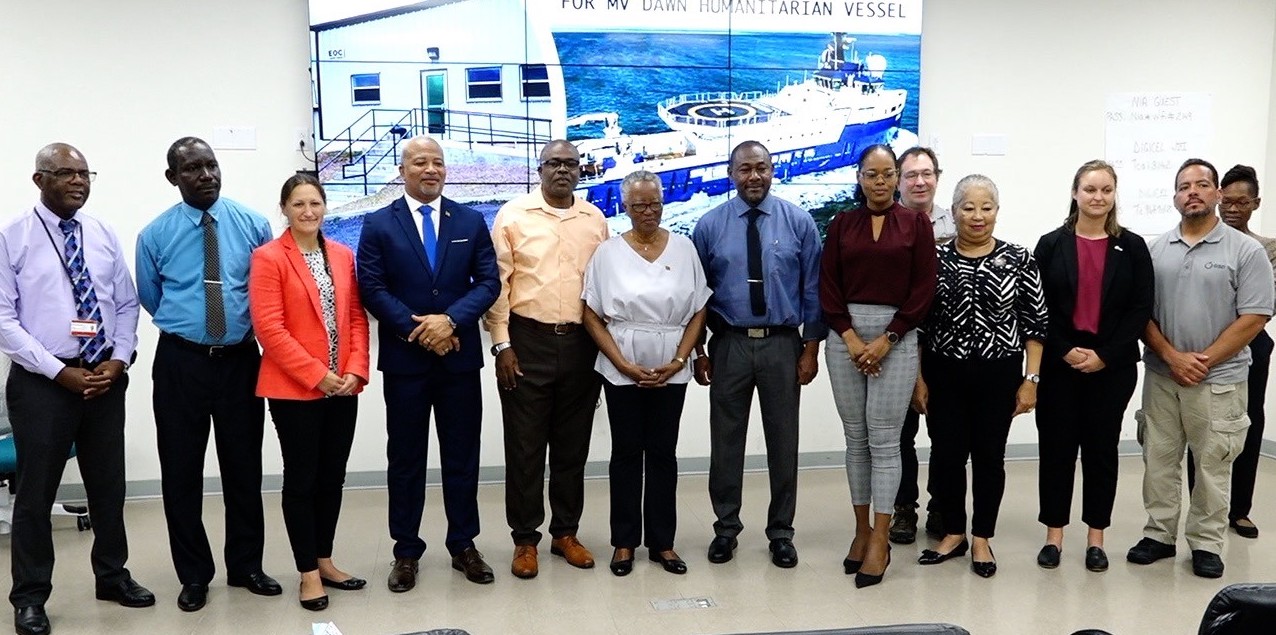 NIA CHARLESTOWN NEVIS (July 31, 2023)- The Honourable Spencer Brand, Minister in the Nevis Island Administration (NIA) responsible for Disaster Management, on Monday, July 31, welcomed the Global Support and Development (GSD) M.V. DAWN humanitarian vessel to Nevis for its inaugural visit.
The M.V. DAWN, which arrived in Nevis on Sunday, is specifically configured to provide humanitarian and disaster support and capacity building training to GSD partners.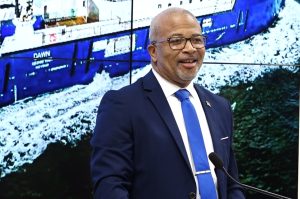 During the welcome ceremony held at the Nevis Disaster Management Department's (NDMD) Emergency Operations Centre at the Long Point Facility, Hon. Brand said the government and people of Nevis are extremely grateful for the partnership with Global Support and Development as it gives the island another platform to mitigate against disaster.
"Today is an important day for Nevis because today we are signaling the seriousness that the Nevis Island Administration exhibited to partner with Global Support and Development to mitigate against disaster here on the island. The exercises that we are hoping to see over the next few days- the mapping exercise, the training, the testing of our various systems- ensure that the cohesiveness between Global Support and Development and our various stakeholders here on Nevis can work seamlessly to protect and mitigate for the people of Nevis.  
"So the people of Nevis are indeed thankful for this partnership and we certainly look forward to working with you in every way possible not only to mitigate against disasters, but also to have the transfer of knowledge to our people and so we certainly want to thank you. You can rest assured that the Nevis Island Administration Cabinet is behind this initiative 100 percent and we are prepared to support this initiative not only to the benefit of this humanitarian exercise but for the people of Nevis."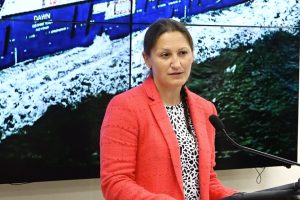 Mr. Brian Dyer, NDMD Director, also lauded the partnership with GSD for the non-profit organization's benevolence in providing critical training and other support to "enhance disaster response capabilities and disaster resilience in communities here in St. Kitts and Nevis."
He said several areas had been earmarked for collaboration including active discussions with the Ministry of Health with regard addressing mental health and psycho-social support services on Nevis, and also general and specialized healthcare at the Alexandra Hospital.
Mr. Dyer said the improvements in baseline data collection and analysis of pre/post impact assessments would greatly assist the local disaster and allied agencies. The GSD team is conducting a bathymetric survey along certain areas on Nevis' coastline, providing critical seabed mapping information on all of the island's ports.
"This information is not only useful for our Physical Planning Department but also it ensures efficiency at our ports and us at Disaster Management to ensure that we can now refresh our Tsunami maps. It's also important for our mariners who utilize our ports."  
Ms. Kate Dichino, Director of Partnerships for GSD, thanked the officials for the warm welcome and for the opportunity to help strengthen Nevis' capacity to respond to disasters and better prepare for future occurrences.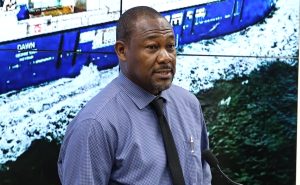 "On behalf of Global Support and Development I would like to express my deepest gratitude to the Government of St. Kitts and Nevis and the Nevis Island Administration for extending the invitation to GSD to mark this moment as we continue our collaborative journey in support of disaster preparedness, response and resilience.
"Communities in the Caribbean know better than most the relationship with the maritime environment and the many challenges posed by climate change. GSD believes that the maritime connection provides a unique humanitarian support opportunity for island nations and DAWN is the manifestation of that belief."
The ceremony saw in attendance Ms. Hyleeta Liburd, Deputy Governor General for Nevis; Members of the NIA Cabinet; and also representatives from the NDMD, Physical Planning Department, Ministry of Health, Nevis Water Department, Nevis Air and Sea Ports Authority (NASPA), Police Force, Fire and Rescue, SKN Red Cross, and other allied partners in disaster management.
The ceremony was followed by a tour of the M.V. DAWN, which is docked at Long Point Pier. A group of young persons and Health stakeholders were also given the opportunity to tour the vessel on Monday.
On Tuesday, August 01, the GSD team will test the island's disaster communications systems, conduct an onboard desalination and ship-to-shore transfer of water exercise, and continue the ongoing underwater survey. The M.V. DAWN will then transit back to St. Kitts as it concludes its visit to the Federation.