Nevis committed to CARICOM's 25 by 25 initiative to reduce food imports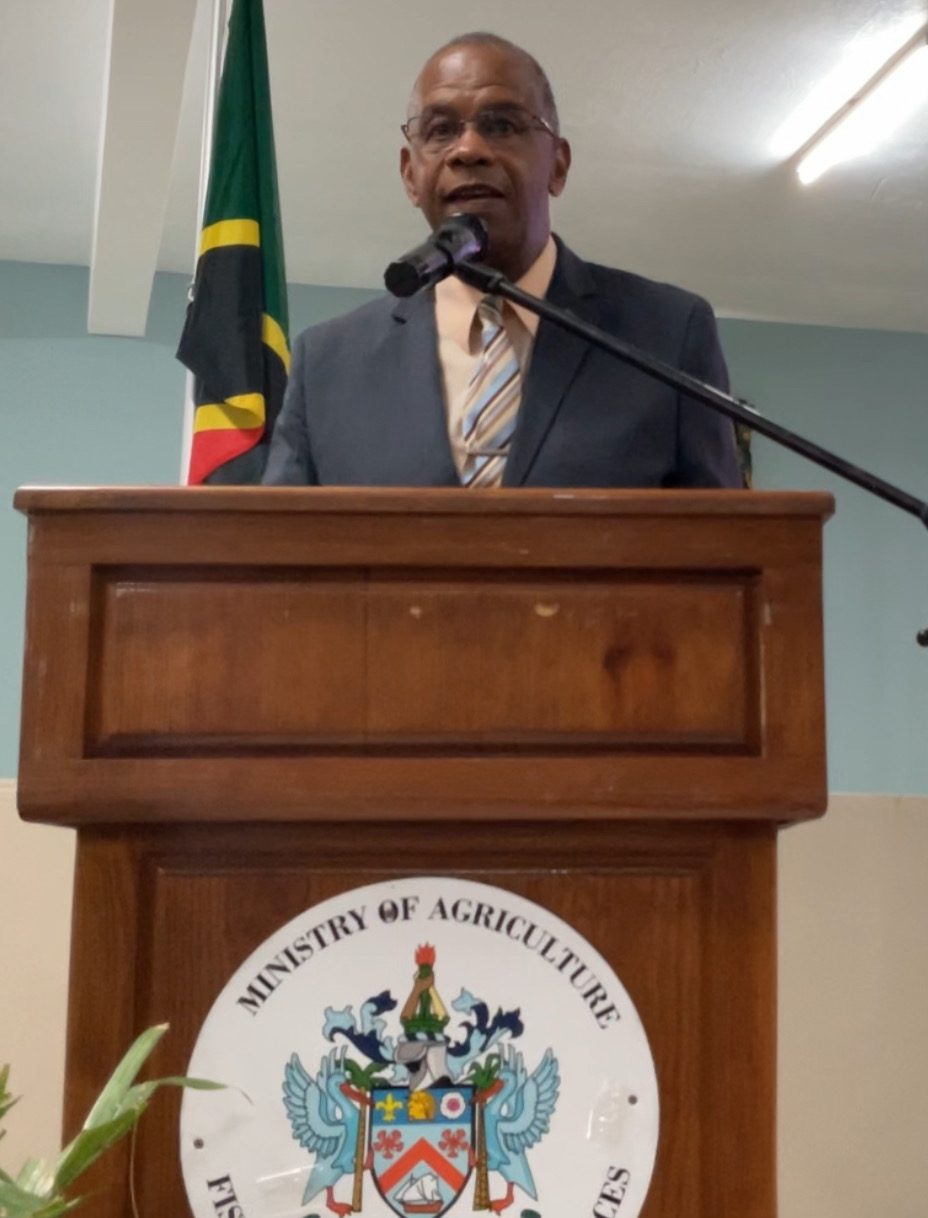 NIA CHARLESTOWN NEVIS (July 28, 2023)- Deputy Premier the Honourable Eric Evelyn, Minister of Agriculture in the Nevis Island Administration (NIA) says the island of Nevis is committed to the national effort towards achieving the CARICOM 25 by 25 initiative to reduce the amount of food imported from overseas.
Hon. Evelyn attended a ceremony hosted by the Ministry of Agriculture at the Department of Agriculture conference room in St. Kitts on Thursday to launch the initiative whereby CARICOM Member States will seek to reduce food import bills by 25 percent by the year 2025.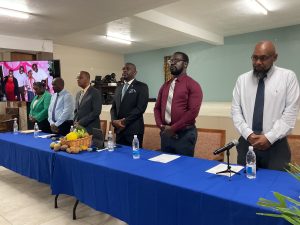 "It was indeed an honour and a pleasure to be part of the official launch of the 25 by 25 initiative. I believe this is an initiative that will be a game changer with regard to agriculture for St. Kitts and Nevis. The Department and Ministry of Agriculture on Nevis fully endorse and support this initiative and we are fully committed to achieving the goal.
"Based on what we are already doing I know that from the Nevis end we are confident we have the resources and the capacity to make a dent in our imports," he told the Department of Information.
During his presentation at Thursday's ceremony Minister Evelyn revealed that Nevis is almost self-sufficient in the production of lettuce, in egg production "and of course we are launching our broiler production project so we are hopeful we can do that with respect to providing Nevis and St. Kitts with locally produced chicken meat."
He underscored the added benefit of the initiative, that buying local produce would mean putting money into the pockets of local farmers and food producers that will be circulated in the local economy. The Minister also pointed out the health benefit to consuming fresh foods that contain less chemical preservatives.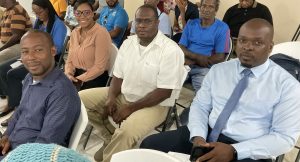 Hon. Evelyn emphasized that the Nevis Island Administration continues to encourage producers and consumers on the island to "grow more of what we eat and eat more of what we grow." He was accompanied by Mr. Huey Sargeant, Permanent Secretary of Agriculture in the NIA, who chaired the event ; Mr. Randy Elliott, Director in the Department of Agriculture; Mr. Corey Maynard, Deputy Director of Marine Resources; Ms. Melissa Allen, Manager of the Fisheries; and Mr. Steve Reid, Chief Extension Officer.
Hon. Samal Duggins, Minister of Agriculture in the government of St. Kitts and Nevis, also spoke to the impact of reducing the amount of food imported into the country. He noted that the food import bill represents a market that local producers can tap into by increasing production.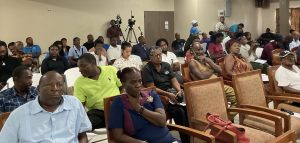 "St. Kitts and Nevis, as small as we think we are, spends upwards of 100 million dollars on food imports…and as we sit here talking about CARICOM's 25 by 2025 initiative our food bill stands at 190-plus million dollars, closer to 200[million]. If we do a simple mathematical equation, we recognize that 25 percent of that is somewhere near 50 million dollars and the essence of what we're here discussing today is how we can share that 50 million among all of you."
Mr. Miguel Fleming, Permanent Secretary in the federal Ministry of Agriculture outlined some of the plans that will be implemented to achieve the initiative goal. These include increasing the number of greenhouses, building additional storage units for produce and meat, and engaging in aquaculture. Ms. Jeanelle Kelly, Director of Agriculture on St. Kitts also delivered remarks during the opening ceremony.