Culture Minister calls for public support to contestants in Culturama pageants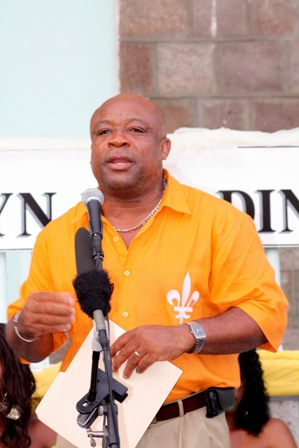 Minister of Culture on Nevis Hon. Hensley Daniel at the launch of the Miss Culture Queen Pageant and the inaugural Miss Culture Swimwear Pageant
CHARLESTOWN NEVIS (June 08, 2010) — Minister responsible for Culture on Nevis Hon. Hensley Daniel issued a call to Nevisians to support the contestants who will vie for two pageant titles for the first time, during the island's leading annual cultural event Culturama from July 22 to August 3rd. He said their participation would help to bring tangible returns to the economy.
His appeal came on Friday when the six contestants for the Miss Culture Queen Pageant and eight for the Miss Culture Swimwear Pageant were formally introduced to the public at the Arthur Evelyn Building's apron in Charlestown on Friday.
"I want you to join us in putting a positive spin on pageants and I would want you to encourage all the participants because the potential that pageants bring is tremendous.
"You will know that during Culturama, cosmetologists, fashion designers, and all the people in Nevis who sell clothes this is their time, so it has great potential for doing those things. So when the ladies come forward we want you to see that they are adding value to our Culturama," he said.
The Minister indicated that participation in the Miss Culture Pageant had been on the rise and he thanked all the sponsors who continued to support the event over the last 36 years.
Mr. Daniel pointed to the new format the contest will take this year which he attributed to the imaginativeness of the Culturama Committee. What had been the Miss Culture Pageant for the past 35 years will now be two separate shows; one with separate contestants showcasing swimwear and the other which will showcase talent and the island's culture.
The Culture Minister used the opportunity to call for a peaceful and productive festival and reminded patrons that they should dance, prance but not chance.
Notwithstanding, he said he expected the usual controversies that had accompanied the festival to surface.
"We say to you, celebrate with us, celebrate with the young ladies, give them as much encouragement as you can…I would want to know who will win the show but I believe Culturama queen show has to be attended by the controversy, it has to be attended by all the challenges we face and I am sure we will have those in 2010.
I want you, therefore, to join me in making sure that we have a successful Culturama and most importantly we have a most successful Miss Culture talent show…I want to endorse festival, endorse the queen show and seek your very greatest support in ensuring that the girls are sufficiently prepared, build their confidence," he said.
Mr. Daniel also said it was his wish that the public shifted its focus to positive things that would allow the contestants to be better prepared over the next six weeks to deliver a great show.