Deputy Premier sums up Seaborne Airlines inaugural flight to Nevis as incredibly proud moment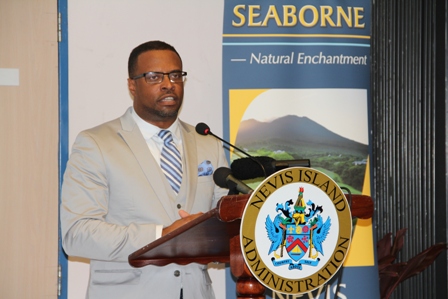 NIA CHARLESTOWN NEVIS (January 23, 2014) — Deputy Premier and Minister of Tourism on Nevis Hon. Mark Brantley described the inaugural flight of Seaborne Airlines into Nevis as an incredibly proud and historic moment.
His comment came when he delivered brief remarks at a ceremony to mark the occasion at the Vance W. Amory International Airport on January 22, 2014.
"It is an incredibly proud moment for me and I think an incredibly proud moment for Nevis today. I believe the Master of Ceremonies said it best, when he said just one year ago we were elected into Government and one year later, we are here for what I think is an historic celebration of Seaborne coming to Nevis… I feel very proud and I feel that if nothing else can be said of this Administration, we have brought Vance Amory International back to life…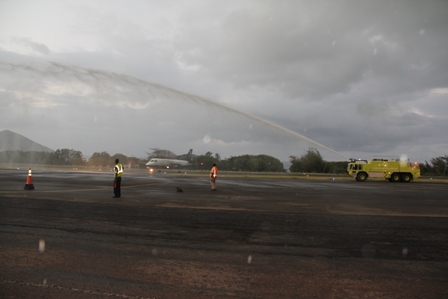 "We have not seen a plane this size coming into Nevis on an everyday basis now for perhaps the last five years. The reality is when American Eagle pulled out. A lot of people said it couldn't be done; a lot of people said there was no future for this airport. We in Opposition and now in Government, said that was not the case and we have worked tirelessly to ensure that the people of Nevis now have traffic at this airport," he said.
However, Mr. Brantley cautioned that the added traffic that the Administration had attracted to Nevis over the last year would all be worthless if not utilised.
"I continue to say at every occasion, that it is meaningless to have the traffic, the planes the equipment, if our people don't use them and I am very happy to hear Mr. Ritzi say the fares are $99 [and] they are going even lower; he has given away some tickets today he is offering 25 percent discount, clearly, a tremendous amount of effort is going into making this airline and this airport your choice for travel," he said.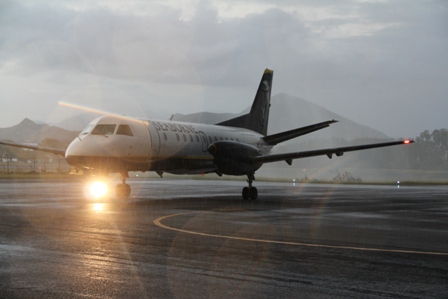 The Tourism Minister also pointed to the benefits of those who used Seaborne Airlines to travel to the United States mainland.
"We have looked at some of the comparisons and frankly, we feel that travelling out of this airport and connecting seamlessly – Mr. Ritzi didn't say – we are told that Seaborne has inter-line and code sharing arrangements with American Airlines, with Jet Blu and Delta. So what that means essentially is that you can book from here directly to your final destination in North America and you don't have to check bags, you don't have to do any of that because it all goes through seamlessly.
"So it's a perfect, perfect opportunity for you to travel, for your friends and family abroad who are coming home for Culturama and other reasons to tell them about this airlift that is here," he said.