DGG on Nevis urges youths to show gratitude for their homeland SKN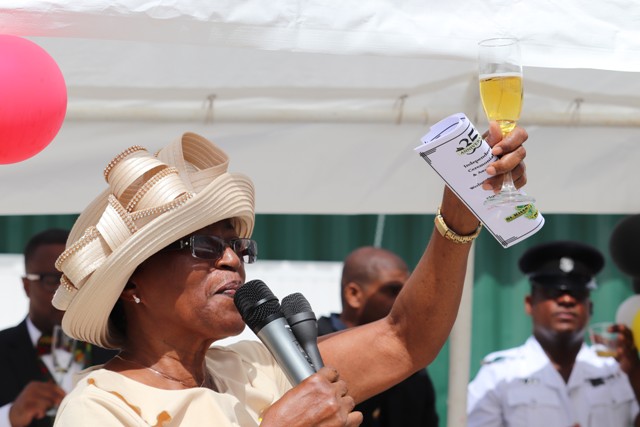 NIA CHARLESTOWN NEVIS (September 20, 2018) — Deputy Governor General for Nevis Her Honour Mrs. Hyleta Liburd, urged youths to do the right thing and to show gratitude for all God has blessed the Federation of St. Kitts and Nevis with.
Mrs. Liburd, was at the time raising a toast to the Federation of St. Kitts and Nevis at the Royal St. Christopher and Nevis Police Force Nevis Division's annual Police Toast, at the Cultural Village on Wednesday, September 19, 2018, in celebration of the Federation's 35th anniversary of Independence.
"We have to just bless God for all of his blessings. He has given us so much in life and especially this Federation of St. Kitts and Nevis. It's one of the most beautiful. We have so many talented people living here, and there is the opportunity for development in every area.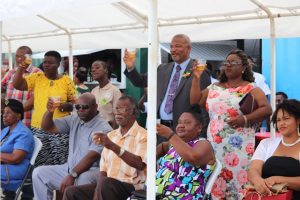 "I take this opportunity, therefore, especially to encourage our young ones and you know there is where my heart is, to just do the right thing… We are very grateful for today and we are grateful to God. We place our hands in his and we move forward. Our country is great. Therefore, it is with great pride that I raise a toast to our country," she said.
The Deputy Governor General referred to the theme for the 35th anniversary of Independence celebrations: "Love, Service, Patriotism and Pride, Independence 35" and stressed the importance of pride.
"We speak about love and service, patriotism and pride and I like to emphasise pride because if we have pride in ourselves and in what we do, nobody will have any problem. God loves us and he shows us how to love. So following his example we can can't go wrong," she said.
Mrs. Liburd commended those who paved the way making it possible for where the country is today. However, she noted that the challenge to take it forward has to be done right.
She expressed the view that with God's help, the island will move forward, once the people of the Federation love and serve one another; have pride in themselves and in what they do, how they act and how they treat others.
The Deputy Governor General used the opportunity to commend those who participated in the Independence Day parade, which she described as an excellent one. She also thanked those who worked behind the scenes to make the event possible and successful.
END