Nevis Divisional Commander Superintendent David seeking public's assistance to make Federation much safer
NIA CHARLESTOWN NEVIS (September 21, 2018) — Superintendent Lyndon David, Divisional Commander at the Royal St. Christopher and Nevis Police Force, Nevis Division, says if the public follows the theme of the 35th anniversary of the Independence of St. Kitts and Nevis, law enforcement would succeed in reaching their goal to make the Federation a safer place.
His comment came while delivering remarks at the division's annual Police Toast at the Cultural Village, following the 35th Anniversary of Independence Ceremonial Parade and Awards Ceremony at the Elquemedo T. Willett Park on September 19, 2018.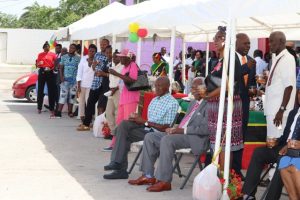 "Our theme speaks to love, service, patriotism and pride at this year's Independence 35. In this current time of our Federation's history, we have seen where crime has increased…
"The Royal St. Christopher and Nevis Police Force has implemented a number of initiatives in order for us to make our island and, by extension, our Federation much safer. However, with love, service, pride and patriotism, I do believe that once we are committed to these four words, indeed we would be successful," he said.
The senior police officer urged the public, more so, parents to speak to their children, show them affection and encourage them to love God and their homeland.
"I just want to encourage each and every one of us, in particular parents, speak to our children. Let them know that we are loving them. Let them know that we are giving good service to them. Let them know that we want them to be patriots just like we are and if we are not patriots, we are working on it…
"Then take pride in yourselves first, then take pride in your country but most of all, I want to say, let us love God first and once we love God, all those four words will definitely come to fruition," he said.
Superintendent David used the opportunity to commend participants at the parade. He said he had quietly taken the decision to judge the best displays. According to his judges, the number two platoon of the Cadet Corps was adjudged the Best on Parade in the armed forces, and for the unarmed units, the Seventh Day Adventist Pathfinders Club emerged winners.
He said he hopes to introduce the practice moving forward to foster greater love, service, patriotism and pride and to engender better performances at the annual parade.