Cedar View Housing Development homeowners satisfied, commend NIA and NHLDC at official opening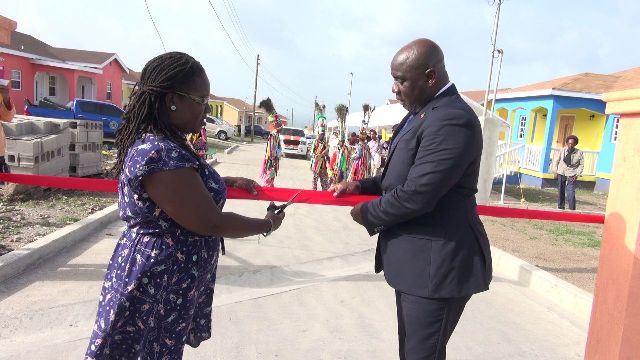 NIA CHARLESTOWN NEVIS (September 24, 2018) — Two of the 19 home owners at the Cedar View Housing Development at Maddens Estate, commended the Nevis Island Administration (NIA) and the Nevis Housing and Land Development Corporation (NHLDC) for the service and quality of the homes they received.
Ms. Kimoye Wyatt and Mr. Kenrick Liverpool expressed their gratitude as they gave their testimonials at the official opening of the housing development on September 20, 2018.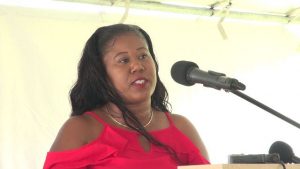 "I can safely say to you that the machinery that was involved, all the departments, all the ministries that were involved in this project did an excellent job. I was particularly pleased by the Nevis Housing and Land Development Corporation, the staff there, the communication was excellent.
"I can testify here, that all the faucets and all the fittings and plumbing and the stuff that were bought were of high quality. I am pleased, very pleased…I want to commend those persons who were involved in that and I am particularly pleased with the house," Mr. Liverpool said.
He also registered his gratitude to Hon. Alexis Jeffers, Minister responsible for Housing and Lands, who is also the Chairman of the NHLDC Board of Directors, and thanked all those who made the development a reality.
"I want to extend gratitude to the minister and the Nevis Island Administration, particularly Mr. Jeffers, for the courtesy that was extended to me personally. I want to thank him for that…
"I want to say kudos to the Nevis Island Administration. Kudos to [St. Christopher and Nevis Social Security Board] for the loan that you would have given and everyone that was involved in this project – excellent job. Job well done!" he said.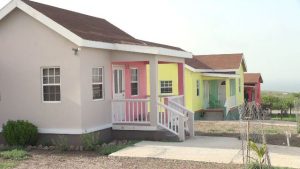 Meantime, Ms. Wyatt spoke of her experience and encouraged others interested in owning a home to follow her lead but warned there would be challenges before the reward.
"I would like to say to all who may be interested in owning their home, work hard and go for it. It is a great accomplishment.
"However, great accomplishments don't come easy; don't come without patience and challenges. The constant paperwork, spending of money and just the overall preparation and planning that comes into owning a house is very strenuous, but when it is all completed and you are able to enjoy your home, it's an amazing feeling," she said.
Ms. Wyatt stated she became a homeowner after she promised herself in 2016 that she would have her own home before her 35th birthday. She said she applied to the NHLDC and to her surprise, in December of that same year, she received her housing acceptance a few days short of her 30th birthday.
The new home owner described the news as "the best birthday gift ever" and it gave her the determination to work harder and to save money.
She thanked her family and friends for their constant encouragement during the process and extended heartfelt thanks to the NHLDC for affording her the opportunity to own a home.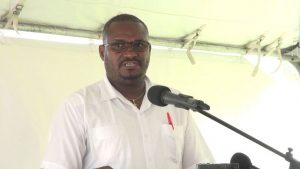 Ms. Wyatt also expressed gratitude to Hon. Alexis Jeffers for his reassurance during the construction phase whenever she called on him with her concerns. She also thanked the Social Security Board.
The Cedar View Housing Development is the latest housing project by the NHLDC. They broke ground for the $8.4million project, funded by the St. Christopher and Nevis Social Security Board, in February 2017.The development sits on 5.93 acres of land and consists to 31 lots, including a common area.
So far, 23 houses have been constructed, 19 of which have been handed over to their owners. An additional two are under construction and work is expected to commence soon on five more.
The lot sizes range from 5,000 to 6,226 square feet. The area offers views of the Atlantic Ocean with Nevis Peak in the backdrop.
Mortgages are available to prospective homeowners by the NIA with a facility which is administered by the Nevis Co-operative Credit Union (NCCU).
Over the years the NHLDC has funded housing developments at Hardtimes, Prospect#1, Cherry Gardens, New River, Butlers, Eden Brown, Nisbet Settlement, Colquhouns Estate, Stoney Grove, Cotton Ground, Craddock Road and New River.