Nevis Premier calls on new civil servants to maintain principles of professionalism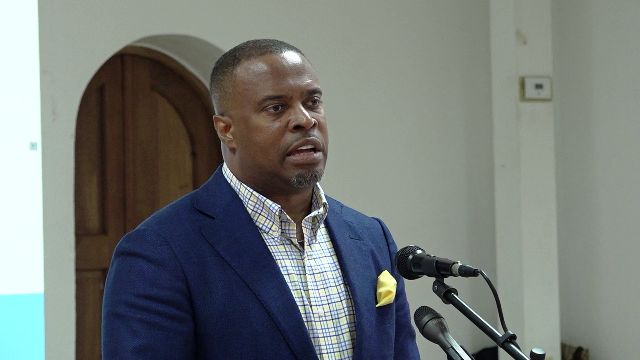 NIA CHARLESTOWN NEVIS (September 25, 2018) — Premier of Nevis Hon. Mark Brantley welcomed a batch of new civil servants and called on them to do the best they can and to maintain the principles of professionalism, as they serve the people of Nevis.
Mr. Brantley addressed the group at a recent one-day orientation seminar, hosted by the Ministry of Human Resources on Nevis, at the St. Paul's Anglican Church Hall in Charlestown.
"I thank all of you for choosing the public service, and encourage each and every one of you to do the very best that you can and to maintain the tenets of professionalism: the way we are dressed, the punctuality, the way you converse and interact with the members of the public and with your colleagues and those above.
"I want to thank you from the bottom of my heart, and I hope that in the years to come I can see many of you still in the government in terms of offering the best possible service to the people of Nevis," he said.
The Premier urged them to show up to work on time; to take care of their job; to be compliant with the regulations, to learn them and know them; to be calm and polite; to conduct themselves in a professional way and to make members of the public who interact with them leave feeling better.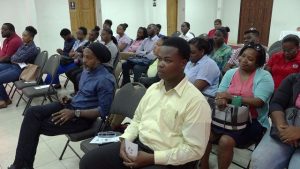 Mr. Brantley described the session as an important one in which the rules and regulations which govern the Civil Service are passed on to them, and in so doing, they would learn what they are entitled to and what is expected for a more disciplined body of public servants.
The Premier also told the participants that there is value in the civil service. He encouraged those who wished to become career civil servants to take advantage of the opportunities that would become available during their tenure.
"There are opportunities within the government and within public service. There is great value in public service. There are many who have made a good career for themselves and for their family in the public service.
"You can look at many who have spent a lifetime serving the public and doing an excellent job of it. You should see yourselves as being here today but ultimately there is mobility – supervisor, department head, assistant permanent secretary, permanent secretary. There are all of these options that you should really look at and say 'Listen, I could have a life as a public servant and a life that adds value to the island of Nevis that we all love,' and so, I want to encourage all of you," he said.
Mr. Brantley expressed his interest in changing the public's mindset of the civil service
"I want, in the future, when people say 'You have a civil service mentality' that it is a compliment. That is ultimately my goal, that when people say you have a civil service mentality it means that you are professional; that you're dressed right; you speak right and you conduct yourself in a particular manner; that the private sector looks to us in the public sector for the quality and standard of service that they themselves are looking for.
"So let us try to work together to achieve that, the civil service mentality becomes an ultimate compliment," he said.
Over the years, the Ministry of Human Resources has embarked on a number of training exercises for the civil service. However, in recent times, acting on a directive of Mr. Brantley, the Ministry has been engaging in more training for officers across the board in an effort to create a more effective and well-informed team.
The ministry has also conducted training in the area of customer service and in October the plan is to have sessions on conflict management.