Dominica Energy Minister pleased with Nevis decision to share information on geothermal development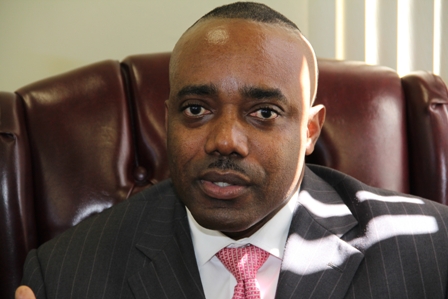 NIA-CHARLESTOWN NEVIS (January 17, 2012) —
Dominica Minister of Public Works, Energy and Ports Mr. Rayburn Blackmoore expressed gratitude to the Nevis Island Administration (NIA) for the opportunity to share in its geothermal development experiences.
He told the Department of Information in an interview at the end of a meeting with Minister of Natural Resources and the Environment on Nevis Hon. Carlisle Powell on January 14th, 2012, that he held the view that both islands should dialogue with each other given the fact that they were both pursuing the development of geothermal energy.
"I want to say to Minister Powell we are happy that Dominica is not going to compete with you and that is why we can have this open dialogue, this open and transparent relationship moving forward.
"We can share our experiences to ensure therefore, that geothermal in itself is developed to its fullest potential for the benefit of our citizens and for civilization of the Caribbean on a whole," he said.
Mr. Blackmoore who was accompanied by Principal Advisor in the Office of the Prime Minister and Coordinator of the Geothermal Unit on Dominica Mr. Jason Timothy, noted that the Dominica Labour Party had made a commitment to the people to diversify that island's energy resources.
"We believe that … because energy impacts on every sector in society we believe that we have to afford the people of Dominica a cleaner and more reliable energy source and we believe that geothermal is the way to go," he said.
The Dominica Minister noted that he was aware that a number of countries within the Caribbean Community (CARICOM) catchment and the Organisation of east Caribbean States (OECS) were embarking on similar projects as far as geothermal was concerned and that Nevis was most advanced.
"Nevis more specifically has gone through the process where they have drilled the test wells. We in Dominica are actually going through the process of drilling test wells in an area they call the Roseau Valley. More specifically as I speak with you, we are now concentrating our efforts in Laudat.
"We believe we have to speak with each other. We have to share best practises and to ensure that we proceed on a positive path because as we have said before we are in this together," he said.
Mr. Blackmoore noted that other delegations from his Ministry had already visited Nevis but believed that his island was at the point where the time had come for the development of policies and to give the necessary direction to the geothermal sector and Nevis could help.
"Of course we can learn from Nevis to help us to develop a policy direction that would be responsive to our needs in Dominica and of course for the Caribbean and how can we share our experiences and share the resource," he said.
In response to a question regarding what he had gleaned from his meetings with the Nevis Minister, Mr. Blackmoore said he was pleased to know that the NIA had recognised the natural resource belonged to the people of Nevis. He regarded it as fundamental since any benefit derived from geothermal was for the benefit of the people of Nevis.
"I think that in itself is very significant because we have to ensure that we protect what is ours. At the same time we cannot say we are not open to persons coming in to assist us.
"We have to understand that the development of geothermal is a very costly exercise, it requires the mobilisation of significant financial resources, it also requires technical competence. I believe that Nevis in itself has the right thinking in developing that resource," he said.