EC$6.7million road rehabilitation project from Cotton Ground to Cliff Dwellers to commence in June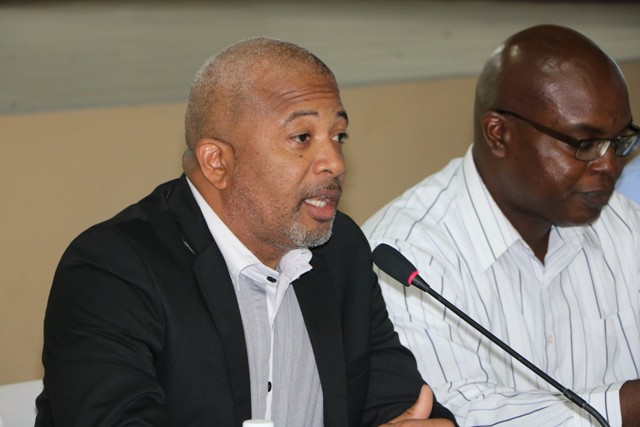 NIA CHARLESTOWN NEVIS (MAY 31, 2019) — The first phase of the Island Main Road Rehabilitation and Safety Improvement Project on the north western coast of Nevis, is slated to commence in the first half of June 2019. The EC$6.7million project from Cotton Ground to Cliff Dwellers, will be constructed by contractors Surrey Paving & Aggregate Co. Caribbean Ltd.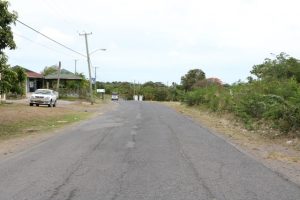 At a town hall meeting hosted by the Ministry of Communications and Works, at the Cotton Ground Community Centre on May 30, 2019, to present residents in the area with the designs and plans relating to the project, Hon. Spencer Brand, Minister of Communication and Works, said the area had been problematic for over a decade, and it had to be rehabilitated.
"This stretch of road has been a problem for the island of Nevis for over a decade… This area is an area that is plagued with certain challenges. It's a waterlogged area.  It is an area that we believe is in the centre of our main tourist development area, so we want to make sure that once this stretch of road is completed we can have a product that is going to last for a very long time….
"I look at this piece of road as one of the main carriage-ways to the island of Nevis from the Vance W. Amory International Airport into Charlestown, and while there are quite a number of roads that are in dire need and in desperate need for rehabilitation, we would have taken a decision to have this piece of road done at this time," he said.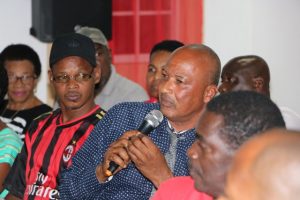 The minister added that the Nevis Island Administration has communicated the challenges to the road construction company, who has given administration the assurance that it would receive a satisfactory product.
The Communications and Works Minister noted that during discussions with the company, the need to utilize as much local equipment and labour where possible and as widely as possible was emphasised.
He called on the public to bear with the disruptions that may come with the project.
"I just want to say to the people of Nevis to bear with us in the ministry. Bear with the contractor. There would be some disruption in the traffic and we would try to limit that disruption as far as possible but I just want to say to the general public there will be disruption. There will be some possible diversion and I just wanted to make that clear to the general public that that would be coming.
"I believe that based on the schedule that I see from Surrey Paving, that this piece of road should be completed in a very timely manner," he said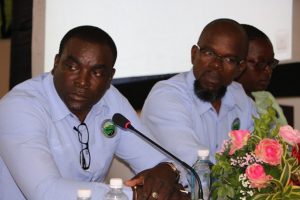 Mr. Brand used the opportunity to thank the company for acceding to a request to undertake some gratis work while on Nevis.
"We took the opportunity to request of Surrey Paving to undertake some goodwill work here on the island of Nevis. We have asked them, while they are on the ground, to have a look at the Cades Bay to Fountain to Mount Lilly stretch of road, and we hope they can do the necessary field work, come up with a design…We can probably deal with that section at a later date.
"We felt that it was important to have the design of that stretch of road completed while they are on the ground, and they have consented and we are indeed thankful and grateful for that goodwill gesture to the people of Nevis and I want to thank them and congratulate them for that initiative," he said.
The meeting was chaired by Dr. Ernie Stapleton, Permanent Secretary in the Ministry of Communications and Works, and presentations were made by team members from Surrey Paving & Aggregate Co. Ltd. Ms. Christine Whitfield, Quality Assurance Manager; and Ms. Xia Claxton, Quality Engineer while questions were addressed by Mr. Desmond Lewis, Deputy Project Director; Mr. Michael Morrison, Project Manager; and Mr. Mark Rhomes, Quantity Surveyor.
Also present were Hon. Mark Brantley, Premier of Nevis; Hon. Alexis Jeffers, Deputy Premier; Mr. Stedmond Tross, Cabinet Secretary; and other senior members of the NIA.