Ecuador Ambassador pays courtesy call on SKN Foreign Affairs Minister Brantley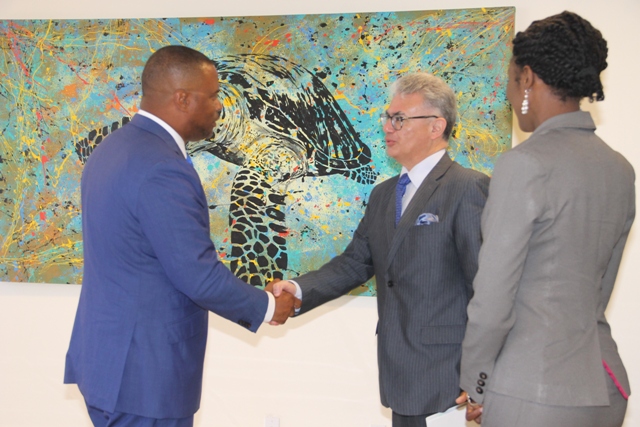 NIA CHARLESTOWN NEVIS (April 04, 2018) — Hon. Mark Brantley, Minister of Foreign Affairs and Aviation in St. Kitts and Nevis, welcomed a two-member delegation from Ecuador led by His Excellency Ambassador Carlos Jativa, Permanent Representative of Ecuador to the International Organization in Vienna to St. Kitts and Nevis when they met at his Pinney's Estate office on April 04, 2018. 
Mr. Brantley expressed hope that their discussions would be fruitful as they sought to deepen their relations between St. Kitts and Nevis and Ecuador. 
"I hope that we can have fruitful discussions today… Ecuador and St. Kitts and Nevis might be some distance apart, but we share certain common challenges and common issues that we hope we will be able to discuss today. 
"Our objective is really to deepen the relationship with Ecuador as indeed we are intending to deepen our relationship with all of Latin America. So for us this is very important and I welcome you again to our country and trust and hope that we have meaningful discussions and following on from today, we can look forward to a much more meaningful relationship between our two countries," he said.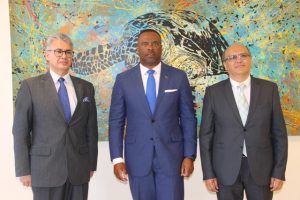 The Ambassador, who was accompanied by Sub-secretary of Multilateral Affairs Minister Luis Espinosa, thanked Mr. Brantley for receiving the delegation and described the visit as an important one. 
He spoke of the relationship between Ecuador, the Federation and the rest of the Caribbean and the Andean nations – Colombia, Venezuela, Peru, Bolivia and Chile.  
"We've had, over the years, several initiatives together with the Caribbean nations, together with our own Andean nations because that's our neighbourhood in Ecuador. 
I think we have worked together both at the Organisation of American States (OAS) and at the United Nations (UN) Assembly at the UN headquarters and other headquarters of the UN and I think that beyond the fact that we are physically separated, I think we share certain values and certain interests in the international arena and I think that's what made us come together closer," he said. 
The Ambassador added that in 2017 Ecuador presided over the G77 which gave them an opportunity to reinforce their relations with the developing world particularly with the Andean and Caribbean nations. 
At the end of the meeting, the delegation which was accompanied by Mrs. Sonia Boddie-Thompson, Foreign Service Officer in the Ministry of Foreign Affairs and Aviation were taken on an island tour of Nevis before returning to St. Kitts. 
The delegation arrived in St. Kitts on April 03, 2018 and are scheduled to depart on April 05, 2018.