NIA and Nevis Animal Speak partnership to offer free spay and neuter clinic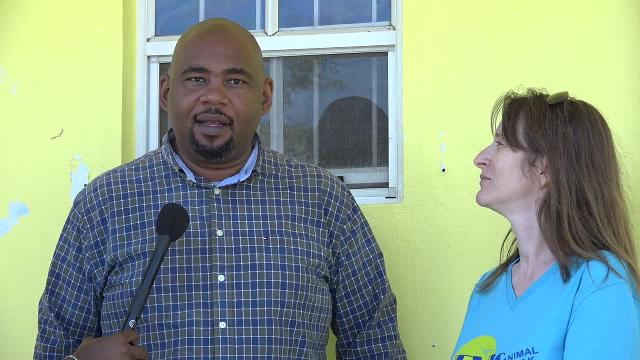 NIA CHARLESTOWN NEVIS (April 4, 2018) — The Nevis Island Administration (NIA) in collaboration with Nevis Animal Speak and The Barking Lot will engage in the Nevis Neuter Project, a free spay and neuter clinic for dogs on the island. The four-day event will commence on April 6th to 9th at The Barking Lot (old Remax building) in Cades Bay.
 In an interview with the Department of Information on April 03, 2018, Mr. Huey Sargeant, Acting Permanent Secretary in the Ministry of Agriculture explained that the programme seeks to address the issue of stray dogs on the island.
 "We've realized that there's quite a number of stray dogs, particularly in Charlestown and I would say that the problem exists in other parts of the island as well.
 "We also have reports of animal attacks on livestock and the ministry is concerned about this current state of affairs as it relates to stray dogs so that's why we've decided to partner with Nevis Animals Speak," he said.
 Mr. Sargeant welcomed the programme and expressed hope that the public will participate.
 "The Ministry of agriculture is heartened by the gesture from Nevis Animal Speak because … going forward … I think it can all go well for Agriculture on Nevis. We're here to support and encourage you to sign up your dogs," he said.
 The Acting Permanent Secretary stated that Owner of Nevis Animals Speak Ms. Janice Jensen initiated the programme and submitted a proposal to the Ministry of Agriculture outlining plans to rectify the issue of stray dogs in a humane manner.
 Meantime, Ms. Jensen who was also present, thanked the Ministry of Agriculture for its partnership.
 "I'm really heartened by the relationship we have built. It is a collaborative effort and we couldn't be more pleased for what is in place for April 6th to 9th and for what we're planning to do to work together in the future," she said.
 The programme's organiser also pointed to the rate at which the population of dogs multiply  and stated that a unspayed female and an unneutered dog could breed 67,000 puppies in as little as six years.
 She said neutered dogs will help prevent unwanted pregnancies; prevent female dogs from attracting male dogs; make it less likely for dogs to roam, get hit by vehicles, lost or stolen and lessen attacks on livestock
 Ms. Jensen used the opportunity to urge persons to bring the dogs in to be spayed and neutered.
 "What we're trying to do is have one big hit helping with the community to not only to bring in their own dogs that roam. It's not just the strays, its peoples' dogs that are not contained.  We want to help them as well because their dogs are making more dogs.
 "So we're reaching out to the community, also to anybody who has dogs that they see in Charlestown. We're encouraging them, if they are friendly, please bring them to us. This is a free programme and for anyone who registers their dog, they will get free flea and tick medicine on the day, free health check, free deworming and some gifts as well," she said.
 Interested persons can contact the Nevis Animal Speak at Tel. 667-6667 or 767-7666, or via email at nevisfix@gmail.com to make appointments.