Education Officials devise new approach to computer studies in Nevis' Public Primary Schools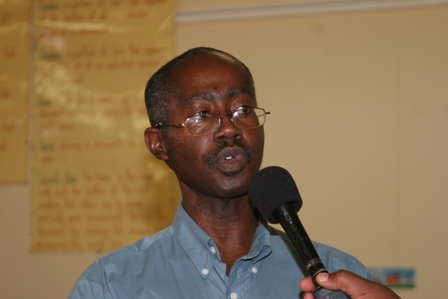 Technology Coordinator in the Department of Education Mr. Laurence Richards
CHARLESTOWN NEVIS (September 14, 2010) — Technology Coordinator in the Department of Education Mr. Laurence Richards, said the new approach to teaching computer studies to primary school students on Nevis would be extremely beneficial.
He told the Department of Information in an interview on Friday that the programme had been expanded for the 2010/2011 school year and encompassed a wider area of study which would be implemented in the island's seven public primary schools.
"It would be extremely beneficial because whereas in the past the focus was on just teaching computer as a subject like Information Technology, now the intention is to use the computer as a resource for teachers as well as students, so that it should be able to assist them whether they are doing – Maths, Science or Language.
"Regardless of what subject area you are dealing with, the computer is supposed to be a resource. So the computer teacher would become a resource person for other teachers as well," he explained.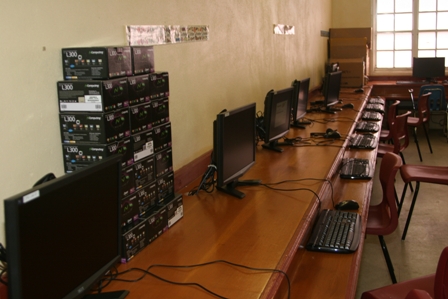 Some of the brand new 150 computer terminals already installed at the Charlestown Primary School's Computer Lab
According to Mr. Richards, the Information Technology team within the Department of Education had planned to continue to assist the teachers who would implement the programme on a more frequent basis, so that over time they would become more versed with the computers.
"We are going to provide training in some types of software and they would become resource persons for the other teachers as well. So eventually they would be equipped to assist other teachers in other subject areas," he said.
Meantime, the Department of Education Official noted that the computer labs had been in existence in the past but the equipment had become obsolete. He said the Nevis Island Administration had given an undertaking to replace all the computers and that promise had materialised with over 150 brand new computers for the start of the new school year.
Notwithstanding, Mr. Richards noted that unlike the past where the computer labs had separate computer systems, the revamped computer labs would be interconnected via a computer network. He said the entire system would be server driven, as opposed to stand alone computers where each one worked independently of the other.
So far the Charlestown Primary School's Computer Lab is the first to be completely installed. The remaining six public primary school abs are expected to be completed shortly.