EIA for proposed Tamarind Bay Marina Development ready for public scrutiny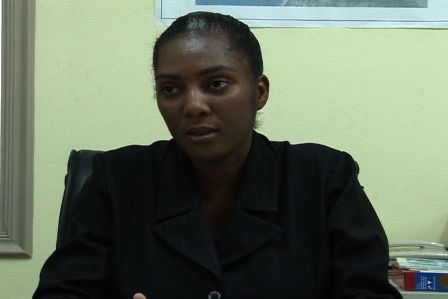 Director of the Department of Physical Planning, Natural Resources and Environment on Nevis Mrs. Angela Walters-Delpeche
CHARLESTOWN NEVIS (July 12th, 2010) — The Department of Physical Planning, Natural Resources and Environment announced on Monday that the Environmental Impact Assessment (EIA) for the proposed Tamarind Bay Marina Development project at Jones Bay was available at the Nevis Public Library for public scrutiny.
The announcement came from the Department's Director Mrs. Angela Walters-Delpeche in an interview with the Department of Information at her office on Main Street in Charlestown.
"Components of the marine project entail 123 yacht slips and mega yacht marina to accommodate a range of marina craft include berthing for an average of 11 mega yachts up to 92 meters long. The real estate portion will feature an attractive marine village with hospitality services, retail shops and a variety of support yacht services," said Mrs. Delpeche.
According to Mrs. Walters-Delpeche, the EIA provided information on the nature and extent of environmental impacts from the marine proposal. The document also included benefits and suitability of the proposed project site.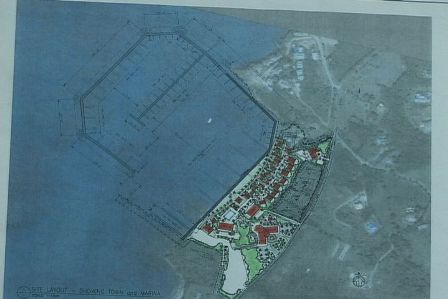 A copy of the site plan for the proposed Tamarind Bay Marina Development project
Mrs. Delpeche informed that public feedback was an essential part of the EIA. She said although the project might be economically viable through the generation of employment, there may be environmental concerns where marine life and the livelihood of fishermen were concerned.
Feedback from the Nevis public should be submitted to the Department by Friday July 16th, 2010.