Expectant mothers more secure at Alexandra Hospital, says Nevis health official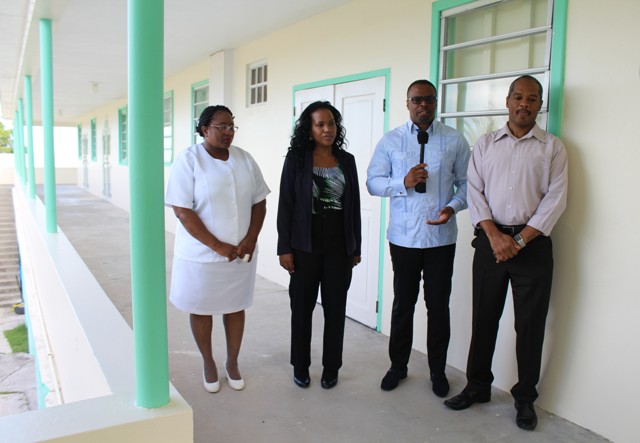 NIA CHARLESTOWN NEVIS (July 18, 2016) — Permanent Secretary in the Ministry of Health on Nevis Nicole Slack-Liburd, believes that expectant mothers on the island will be pleased with the investments the Nevis Island Administration (NIA) continue to make at the maternity ward of the Alexandra Hospital among them their security.
She was at the time touring the facility with Deputy Premier of Nevis and Minister of Health Hon. Mark Brantley, Hospital Administrator Gary Pemberton and Acting Matron Jessica Scarborough on July 15, 2016.
"I am sure the expectant mothers would find this facility very inviting and much safer, I would say, because we invested significantly especially in the roof and so mothers can feel secure coming here and delivering their babies," she said.
According to Slack-Liburd, maternal and child health is extremely important, since there is an average of 120 babies on the island annually.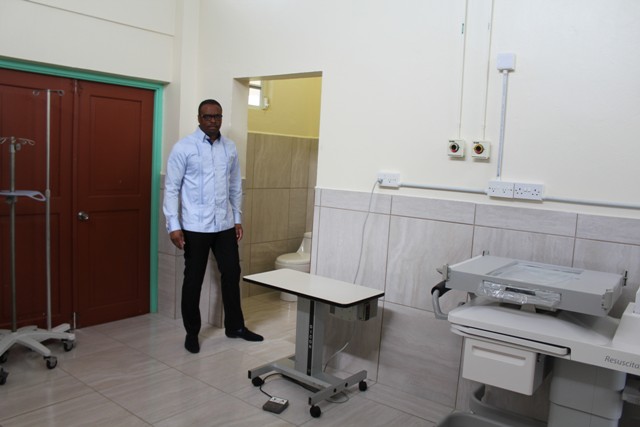 The maternity ward was relocated to accommodate the renovations. The Permanent Secretary thanked the patrons for their patience.
She announced that other improvements are planned for the hospital over the next several months including work on the diagnostic wing. She noted that improvements have already been done to the mortuary.
Meantime, Mr. Brantley, in brief remarks, reassured Nevisians of the Administration's commitment to improve the island's main health facility over time.
He noted his satisfaction with the gains made in health care on Nevis. However, he said the health officials would continue to encourage the public to choose healthy lifestyles.
The Health Minister, urged expectant mothers to take advantage of the pre and post-natal care offered on the island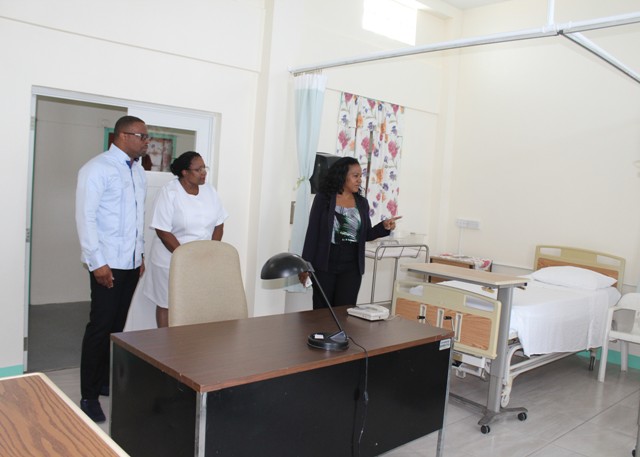 "We now have, for the first time, an Obstetrics/Gynaecologist (OBGYN) who is stationed in the community at the health centres. So really, mothers out there who are expecting please go. Ensure you have your check-ups and take advantage of all the range of services that we have available right here at the hospital and at the community level as well.
"We want to ensure that people have healthy pregnancies, healthy babies and when you do come here we want you to have a pleasant experience here at the Alexandra hospital," he said.
The renovation project entailed a new roof and an improved interior including improved bathroom facilities, repainting, a drop ceiling and new floor tiles.