First Flambouyant tree planted with love and peace in honour of Queen Elizabeth II's 60-year reign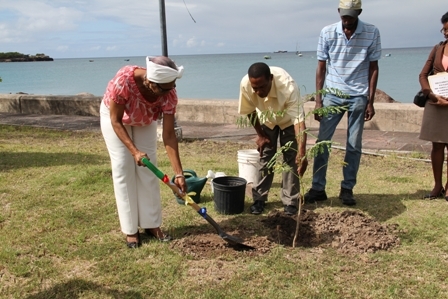 NIA-CHARLESTOWN NEVIS (February 22, 2012) —
The first of five Flambouyant trees, the national flower of St. Kitts and Nevis, was planted on the Charlestown Waterfront, St. Pauls Parish on Wednesday February 22, 2012 by Mrs. Gloria Anslyn MBE to mark Queen Elizabeth II's Diamond Jubilee.
The tree was planted with the supervision of Chief Extension Officer from the Department of Agriculture Mr. Walcott James and Assistant Forestry Officer Mr. Lindsay Archibald and witnessed by members of the Nevis Planning Committee who have been charged with drawing up public activities to mark the Diamond Jubilee celebrations on Nevis.
During the brief but significant ceremony, Nevis Planning Committee Member Mr. Chesley Davis gave some detail about the tree planting exercise on Nevis and St. Kitts.
"We are here to plant the first of the five Flambouyant trees which will be planted here in Nevis as we commemorate the anniversary of Her Majesty the Queen Elizabeth II.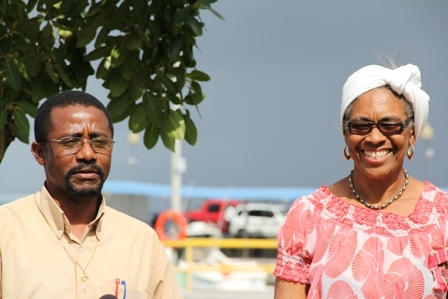 "Some of you may be aware that in St. Kitts and Nevis, for the celebration we will be planting 60 trees, 30 in Nevis [and] of the 30 in Nevis, we have five Flambouyant trees, they being the national flower [and 25 citrus trees in schools]. With us to do the honours is Mrs. Gloria L. Anslyn MBE, who was awarded by Her Majesty for services in 1994-95 thereabout," he said.
Meantime Mrs. Anslyn expressed her joy planting what will become a landmark tree for future generations in the same area where she grew up as a child.
"It is a pleasure for me to be here this morning to plant this tree in commemoration of the Diamond Jubilee of Queen Elizabeth II 2012. It gives me great pleasure because this was the area that I grew up and to see I am planting this tree here, history is repeating.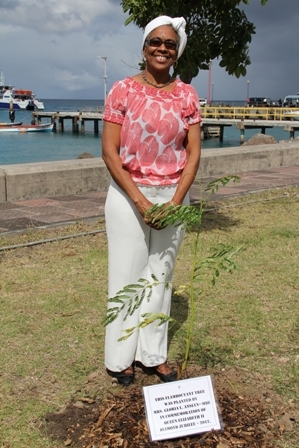 "Maybe the grand children and great grand children of this community will someday be sitting under this tree or benefiting from this tree. I am going to plant this tree with love and peace that passeth all understanding and with love and peace justice will prevail," she said as she thanked the Committee for the opportunity to plant the tree.
A formal inscribed plaque to be placed later on the tree will read "This Flambouyant Tree Was Planted By Mrs. Gloria Anslyn – MBE In Commemoration Of Queen Elizabeth II Diamond Jubilee – 2012"
The second and third tree planting ceremonies are scheduled for Thursday 23rd February at the Bath Cemetery in the St. Johns Parish at 10am and in the area of Market Shop in Gingerland in the St. Georges Parish at 11am.