First Vietnamese Ambassador to the Federation pays courtesy call on Premier Amory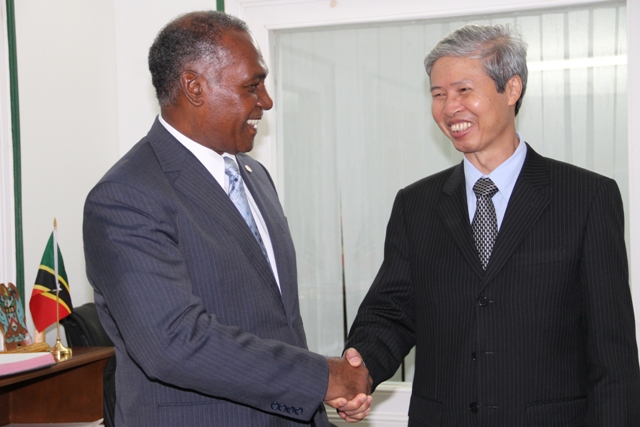 NIA CHARLESTOWN NEVIS (November 25, 2015) — The first Vietnam Ambassador to the Federation of St. Kitts and Nevis His Excellency Mr. Duong Minh paid a courtesy call on Premier of Nevis Hon. Vance Amory. They met at the Nevis Island Administration at the Premier's Bath Hotel office on November 24, 2015. The Ambassador was accompanied by Minister Counsellor Mr. Duong Hai Hung.
In brief remarks after their meeting, Mr. Amory described the meeting as fruitful. He said they exchanged ideas on how St. Kitts and Nevis could benefit from Vietnam and how the countries could mutually benefit and strengthen their relations.
According to the Premier, they discussed areas of cooperation in tourism, technology development, education, agriculture and opportunities for investment in business.
Meantime, Ambassador Minh who had presented his credentials to Governor General His Excellency S.W. Tapley Seaton QC one day before in Basseterre, expressed satisfaction with his discussions with Premier Amory. He expressed gratitude, on behalf of the Vietnamese people, for the cooperation.
According to the Ambassador, Vietnam and St. Kitts and Nevis are developing countries and even though they are geographically far apart, they have many similarities which could provide opportunities for cooperation.
"I realise that in the two countries we have many opportunities, a lot of potential so that we can cooperate. Vietnam is a developing country and we are one of the countries having a focus group on development," he said.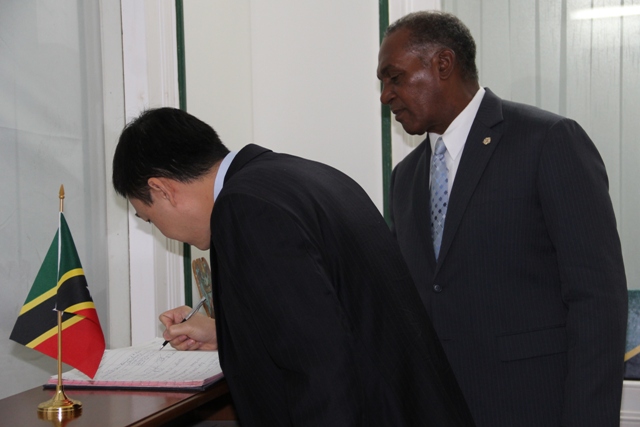 Ambassador Minh stated that the average growth rate of Vietnam over the last 30 years is around 7 percent and it has transformed Vietnam from a war-torn country to a middle to average developed country in the world.
He noted that its economic policy is comprehensive and there is diversification in the areas of industry, agriculture and service.
The Vietnamese Ambassador also said that industrial and aquaculture products from his country are found worldwide.
He said the opportunity exists for the creation of direct trade relations between Vietnam and St. Kitts and Nevis and as such, there would be no need for a middleman. He pointed to Vietnam's position with regard to its exports in rice and aquaculture products.
The Ambassador said although the Federation does not have large expanses of agricultural land it is surrounded by the sea which makes it suitable for the use of aquaculture.
While in the Federation Ambassador Minh also held meetings with President of the St. Kitts and Nevis National Assembly His Honour Franklin Brand, Senior Diplomat and Minister of Foreign Affairs Hon. Mark Brantley and Federal Minister of Trade Hon. Lindsay Grant, Federal Minister of Agriculture Hon. Eugene Hamilton and President of the St. Kitts and Nevis Chamber of Industry and Commerce Damion Hobson.