Food Security: A cause championed by Nevis Agriculture Officials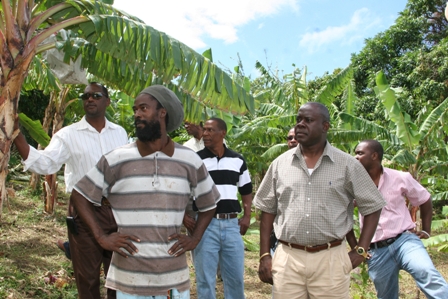 (Left) Organic Farmer Mr. Dave "Muntu" Jarvis shows (right) Minister of Agriculture Hon. Roberto Hector around his farm at Barns Ghaut with other Agriculture Officials (second row L-R) Permanent Secretary in the Ministry of Agriculture Dr. Kelvin Daly, Chief Extension Officer Mr. Walcott James, Communications Officer Mr. Eric Evelyn, Agriculture Supervisor Mr. Randy Elliott and (back) Director of Agriculture Mr. Keithley Amory
NIA-CHARLESTOWN NEVIS (February 22, 2011) — The cause for food security continued to be championed by the Agriculture authorities on Nevis, through a mandate including food production for the island's population. Minister of Agriculture in the Nevis Island Administration (NIA) Hon. Robelto Hector, made the comment citing that the matter of food security was not empty rhetoric, when the world was facing a food shortage.
The Minister's comment came on Monday at the end of four hour tour to various areas involved in food production on the island.
"When I recognise today we have a new breed to introduce to improve the lines in the sheep population. That is a step in the right direction, that step of making sure that we have food for the future. Indeed our breeds are now at that point where they need invigoration, trying new breeds on the island so that the quality of meat we offer to the public can be good. Visiting Indian Castle, we recognise the introduction of a bull some years ago what it has done.
"When we introduce the new [Black Head] Dorper rams into our flocks, we would be able to have an increase in the gene pool and we can have better quality. That in itself is an indication that we understand what we are doing towards the future and making sure that that notion of food security is really looked after by our Department," he said.
Mr. Hector registered satisfaction with the new breed of farmers involved in farming at present which he attributed to the hard work of the Department of Agriculture's staff in recent years in their quest for food security.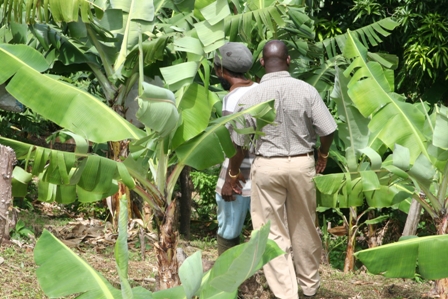 Agriculture Minister on Nevis Hon. Robelto Hector descends the banana plantation in Barnes Ghaut at with owner and Farmer Mr. Dave "Muntu" Jarvis
He pointed to the work of two young farmers Mr. Vaughn Browne at Upper Cades Bay and Mr. Dave "Muntu" Jarvis at Barnes Ghaut
"Mr. Browne is a farmer that is bursting his seams. In true extension this is the farmer you want to take unto a larger plot… [in] that particular farmer, I recognise there is tremendous potential young, excited and he needs greater acreage…
"Muntu could be compared to any farmer in the Windward Islands. You have seeing bananas on steep slopes, you are seeing again a young man who is alive, active and has an interest in farming. Again, these are the kind of people we would want," he said.
According to Mr. Hector, the number of persons involved in farming had grown over the past four years
"Years ago we recognise the average age was 50 and over. I have been informed that it is much less now [and] our numbers are increasing. We have moved from some 52 farmers in 2006 to 70 plus farmers. Indeed the Department, the officers, the Director, they all are to be commended for that work because that is not easy.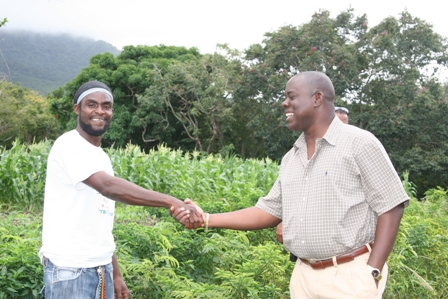 Farmer Mr. Vaughn Browne thanks Minister of Agriculture Hon. Robelto Hector for visiting his Upper Cades Bay farm
"In other Caribbean islands we are seeing a decline in the number of farmers or people getting into farming. I am happy that though we are small, our farmers recognise that production of food – dirtying their hands in the cleanness of the soil – is something important as we move forward and as we develop as a country," he stated.
With regard to crop quality, the Agriculture Minister noted that in the case of Farmer Javis, he was moved by the fact that, that farmer had found a formula for the production of hybrid crops with manure and had ensured the right mix in his compost heap which sustained his crops with the right nutrients.
"He is one of those organic farmers and I am rest assured from what I have seen this again augers well.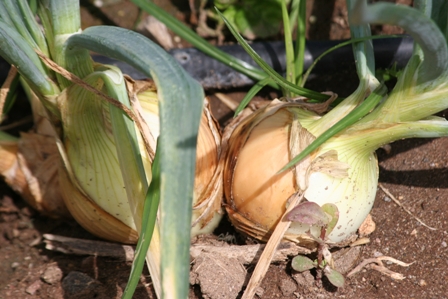 Onions nearing harvest at the Department of Agriculture's farm at Potworks
"This is again a shift again in the direction of the health conscious, with hotel industries going in a direction where nutrition is being looked at. I would just like to congratulate him and ask him to continue," he said.