OAS will continue to assist Federation's Tourism human resource development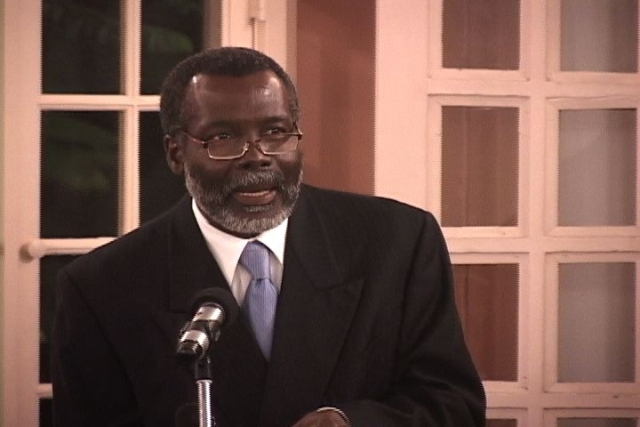 Organization of American States (OAS) Representative to St. Kitts and Nevis Mr. Starret Greene at the recent annual Tourism Awards Dinner and Dance at the Old Manor Hotel
NIA-CHARLESTOWN NEVIS (February 22, 2011) — The Organization of American States (OAS) will continue to develop and strengthen the Federation's human resource in the area of Tourism.
The Organisation's representative for St. Kitts and Nevis Mr. Starret Greene made the comment at the recent annual Tourism Awards Dinner and Dance hosted by the Ministry of Tourism in the Nevis Island Administration (NIA) at the Old Manor Hotel.
"The OAS has continued to support the development and strengthening of the human resources within the Tourism industry in both St. Kits and Nevis. In this connection my organisation through the Capacity Building Tourism Training and Certification Project, sponsored Guest Room Attendant Workshop in November 2010 at the Frigate Bay Resort on St. Kitts.
"Let me interject that the workshop was made possible through the support of the Ministries of Tourism on both St. Kitts and Nevis and with the expert input of the coordinator Ms. Novelette Morton ably supported by Mr. Carl Williams," he said.
The workshop, Mr. Greene explained, targeted guest room attendants an area often overlooked for training opportunities in the tourism sector. He said those workers played an indispensible role in the upkeep of the tourism product and were believed to be among those who worked the hardest in the industry.
During the ceremony, two participants from Nevis Ms. Kishma Freeman of Rawlins Village employed at The Hermitage Plantation Inn and Ms. Yvonne Herbert of Cotton Ground Village employed at Oualie Beach Resort were awarded for their achievements during the workshop.
According to Mr. Greene, they had successfully sat an examination on conclusion of the workshop and had become fully certified Guest Room Attendants with worldwide accreditation standards set by the American Hotels and Lodging Association.
"They are now qualified to work anywhere in the Federation and for that matter anywhere in the world as well. I would like to congratulate them for their achievements and to request that they pass on with humility and boldness their knowledge and skills to colleagues who were not exposed to the training they received. That is very important," he said.
Notwithstanding, the OAS Representative thanked Premier of Nevis and Minister of Tourism in the NIA Hon. Joseph Parry, for what he said was his unwavering support to Tourism. He said he was aware that the Ministry of Tourism had worked hand in hand with stakeholders in the hospitality and tourism industry to make the tourism related events possible.
"I wish to commend the high level of cooperation and collaboration between all stake holders. This cooperative spirit is essential to keep the industry vibrant, modern and sustainable," he said.
Mr. Greene also urged Nevisians to put their shoulders to the wheel and place their hearts front and centre in a collaborative and sustained effort to ensure that tourism was protected and preserved, not only for the enjoyment of visitors but also for the continued benefit of this and future generations.