Foreign Affairs Minister Brantley attending high-level meeting in Brussels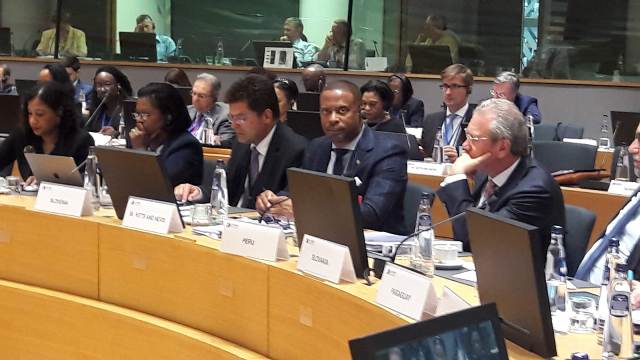 NIA CHARLESTOWN NEVIS (July 16, 2018) – The following is a press release from the Ministry of Foreign Affairs and Aviation dated July 16, 2018, regarding Minister of Foreign Affairs Hon. Mark Brantley's engagement in Brussels.
The Hon. Mark Brantley, representing the Federation in his capacity as Minister of Foreign Affairs, is attending the European Union (EU) and the Community of Latin American and Caribbean States (CELAC) Meeting of Ministers of Foreign Affairs taking place in Brussels. The theme is "Building bridged and strengthening our partnership to face global challenges".
This morning, the St. Kitts and Nevis top diplomat attended a meeting of Ministers of the Caribbean Forum (CARIFORUM), where they received a report from their Jamaican counterpart, Hon. Kamina Johnson-Smith, the current Chairman of the African, Caribbean and African States, regarding the progress in consultations with the African Union (AU), and the Pacific to ascertain their commitment for maintaining the Group.
The meeting also considered the draft speaking notes for the engagement the CARIFORUM Ministers will have with their EU counterpart, Federica Mogherini, the High Representative for Foreign Affairs and Security Policy, review the draft agenda for the CELAC-EU Ministerial meeting, agree on interventions and consider the joint press release to be issued at the close of the Ministerial meeting.
Following that early meeting, Minister Brantley attended the opening of the CELAC-EU Meeting of Foreign Ministers.
In her opening remarks, the EU High Representative said that from hereon, the relationship should be considered a "partnership amongst equals."
The High Representative stated that while Latin America and the Caribbean has been a region that has significantly reduced inequalities, it is also a region that is most unequal.
Addressing the meeting, the Minister of Foreign Affairs of El Salvador, Minister Castañeda, the Pro-Tempore Chairman of CELAC called for solidarity in multilateral fora to uphold the common values of both regions.
It is anticipated that the plenary session will continue late into the evening, addressing topics such as consolidating multilateralism and strengthening the cooperation in global forums, implementation of the 2030 Agenda for Sustainable Development and working together for inclusive and sustainable economic trade, investments and productivity.
The Minister will join his CELAC and EU colleagues for dinner to be hosted by the EU's High Representative.
Tomorrow, the CELAC and EU Ministers will adopt the declaration of the meeting and approve the amendments to Chapter II of the CELAC-EU Action Plan. The meeting closes on 17th July 2018.