Former USVI Senator pays homage to Premier of Nevis for his visionary leadership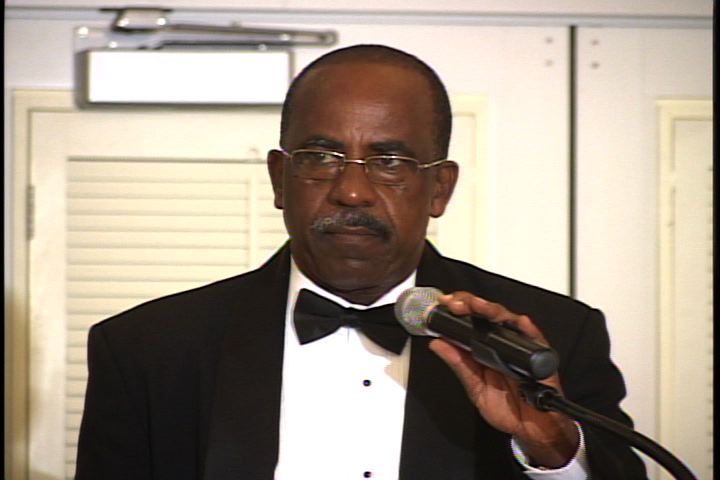 Mr. Roosevelt David, Keynote Speaker at the Premiers Gala
(CHARLESTOWN,NEVIS–WEDNESDAY, JANUARY 19, 2011) Former United States
Virgin Islands Senator, Mr. Roosevelt David paid homage to the Premier of
Nevis, the Hon. Joseph Parry during the Premier's Gala, hosted by the
Women's Arm of the Nevis Reformation Party (NRP) on Saturday, January 15th
at the luxurious Four Seasons Resort.
Mr. David, who was the featured speaker, noted that J.W. Parry had never
lost his common touch of the grass roots but had the profound capability of
communicating with kings, queens and could even soar with eagles.
"You see, Walcott excelled at Primary school, high school, grammar school
and University. A trained economist, Nevis could not have chosen a more
appropriate and competent leader at this time, particularly during this
global crisis and near financial meltdown on the World.
"But the Captain of your ship held a steady course and through his ingenuity
and support of his cabinet members and advisors, he kept his ship afloat and
averted destruction on his people. Nevisians are eternally blessed that a
'Moses' has risen up in their midst," said Mr. David.
The featured speaker said his reference to Premier Parry as "Moses" was
because the financial crisis had impacted on a large number of persons
across the globe. He said that a number of doctors, teachers and private
sector persons lost their jobs.
Mr. David discussed how, even closer to home in the Caribbean region, some
500 jobs in Cuba were on the line. In Puerto Rico 30,000 civil servants lost
their jobs, many other Caribbean islands experienced similar fates and on
the United States mainland, 8 million people lost their jobs.
The Featured Speaker asked the attendees of the gala," Did any civil servant
in Nevis lose their job?" and received a resounding "NO" in response. He
said people did not lose their jobs because of the visionary leadership of
the Hon. Joseph Parry.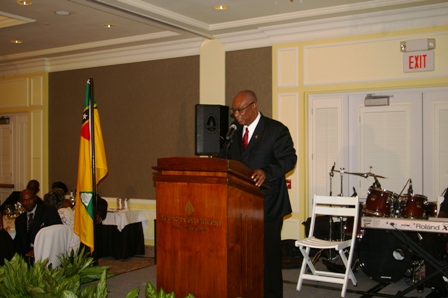 Premer of Nevis, Hon. Joseph Parry speaking at the Gala
"This very Resort where we are today, the Four Seasons, was embroiled with
uncertainty as it was entangled with complicated financial situations. I
want you all to know, that your Premier cleverly and prudently worked to
mitigate the situation and tonight we are here!" he said.