Vivacious 99-year-old "Martin" Powell gives thanks for longevity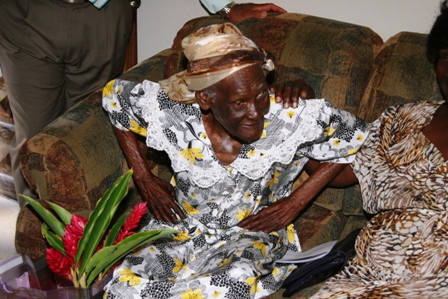 Birthday girl 99-year-old Ms. Celian Irene "Martin" Powell, celebrates her birthday with her family and well wishers motions to dance in her happy moment
NIA-CHARLESTOWN NEVIS (January 20, 2011) — Birthday girl Ms. Celian Irene "Martin" Powell moved one year closer to her 100th birthday when she celebrated her 99th among family and well wishers at her home in Zion Village on Wednesday. Members of the Nevis Island Administration Cabinet including Premier of Nevis Hon. Joseph Parry and Minister responsible for Seniors Hon. Hensley Daniel were among those present to wish the vivacious celebrant a Happy Birthday and longer life.
"Thank God, Thank God! Praise God, Praise God. I wouldn't weary praise God ou these people. God bless those… to heaven. They do good…they do good!" she blurted out when Mr. Daniel presented her with a gift.
Ms. Powell thanked all who made the effort to visit on her special day. An amputee since 1978, Ms. Powell seated with her only surviving daughter, clapped for joy and at times motioned to dance as she made known her gratitude to God for long life. She was born on January 19, 1912.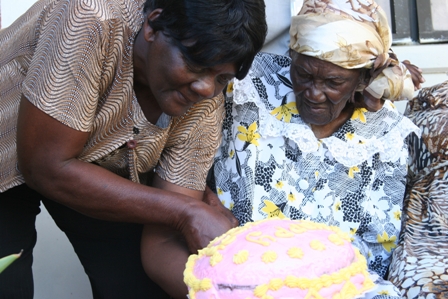 Ninety-nine year old Ms. Celian Irene "Martin" Powell (right) gives great attention to cutting her cake with some help from adopted daughter Ms. Ionie Swanston
Her grandson Hon. Carlisle Powell, who is also a member of the NIA Cabinet, chaired the event and told those present, that his grandma looked forward to celebrating her birthday every year and quoted her as saying she had planned to reach her 100th birthday in 2012.
Meantime, Mrs. Mariney Newton of the New River Methodist Church of which Ms. Powell is a member, in remarks on behalf of the Methodist Congregation said it was a pleasant occasion which the wider Methodist Community gave thanks for the long life of Ms. Powell.
"We would like to say to you how grateful we are that God has spared your life to see 99 years. We know that our years here on earth are numbered but you have been able to reach 99 and our prayer for you is that you continue to trust him so that at the end of your days you will hear 'well done thou good and faithful servant'.
"We know the evil one is around and he spares nothing at all in attacking God's children but we want you to continue to walk in his path and we will continue to pray for you and we will continue to work with you so that in the end all will be well…we give God thanks for your extended family, those who continue to take care of you…So God bless and we love you," she said.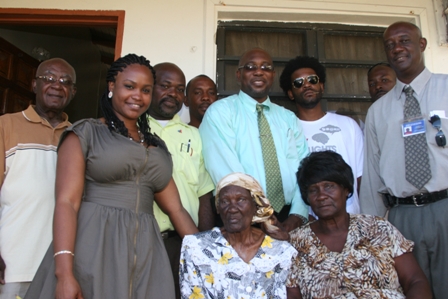 Ms. Powell with family including her surviving daughter Mrs. Dulcina Brown (seated next to her) Grandson Hon Carlisle Powell (fourth from right) in celebration of her 99th birthday
Other remarks came from family members including Mr. Theodore Prince Browne, Premier of Nevis Hon. Joseph Parry and Hon Hensley Daniel while the scripture was read by Ms. Vanessa Webbe. Mr. Shefton Liburd delivered a prayer and renditions in music and song were rendered by the New River Methodist Church Choir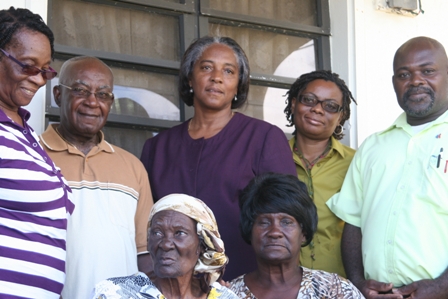 Members of the New River Methodist Church Choir. Mrs Mariney Newton is third from left with birthday girl Ms. Celian Irene "Martin" Powell and daughter Mrs. Dulcina Brown